Life's Abundance Agility Formula
Most joint and arthritis supplements treat the joint as an isolated body part.  To successfully relieve aches, pains, and stiffness and bring the body back into a healthy state, a supplement must take into account the needs of the whole body and address the other body parts that work with the joints: the connective tissue; bones; and synovial fluid which lubricates the joints.  Life's Abundance Agility Formula Supplement does this, and this is what makes Agility so effective.
Symptoms of Pain in Pets
Good joint health is crucial to your pet's wellbeing. The ability to walk, run and jump represents a large part of your pet's unique ability to express emotion. Unfortunately, aching and stiff joints are just as much a part of aging for cats and dogs as it is for humans. In fact, there are an estimated 68 million dogs experiencing hip and joint challenges – that's nearly 60% of the canine population!
Our pets have signs and symptoms of pain, but often this pain is unrecognized, undiagnosed, and not treated.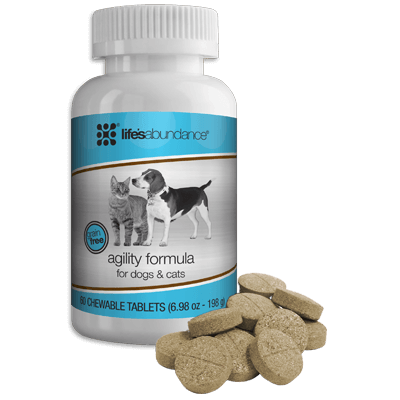 Some pets may be reluctant to move, to jump up, or have difficulty rising after lying down.  They may tremble, eat or drink less, be generally depressed, or be panting more.
More obvious signs of pain are obvious lameness, pain when touching a specific area of their body, increased heart rate and breathing, and vocalization.
Some pets have strictly behavioral changes, such as being more aggressive or not reacting to being petted and groomed.
    Click Here to Order Agility Formula Supplement
Joan's Experience With Agility Formula
Dear Deena,
    THANK YOU!!!!!     How good of you to have some on order!   It has become an essential part of the good health program for my doggies!   
  When I was running out a short time ago, I had to cut back on Angellina's quantity, since Vladdie Mert needs it so desperately, but now that she gets one tablet a day, she is so much better.  And of course, Val's damaged knee lugament requires some extra help; too.
The Agility Formula REALLY WORKS!   Some things sort of work, maybe – you can see a bit of difference, but this is a very clear cut difference, like day and night, with it or without it.  
    In fact, as I rave about it, it occurs to me that you could use my comments as a testimonial on your site, if you would like!   
   Lots of love to you for a wonderful 2016!
   Joan
Our Personal Experience with Agility Formula
One of our German Shorthaired Pointers, Larry, had an ineffective knee surgery that left him with debilitating arthritis. He could barely stand and was in much pain.  We tried many types of supplements, plus he was given the prescription medication, Rimadyl, which was causing his liver count to increase to a dangerous level.  A friend recommended  Life's Abundance Agility Formula, and after a few weeks of taking the Agility, he was moving freely again, actually able to run again and chase rabbits and birds.  We were amazed at how well the Agility worked, especially after having tried so many other things.  And we were able to take wean him off of the Rimadyl (by slowly decreasing the amount over a 4 week period).

What do the Agility Formula ingredients do?
Life's Abundance Agility Formula features Glucosamine, MSM, sea mussels and hyaluronic acid.  Agility Formula is a natural, holistic, multi-action joint support formula containing scientifically-tested ingredients.
Glucosamine helps maintain and promote joint and connective tissue health.  It hydrates and lubricates your pet's joints.  The added hydration and lubrication will help to prevent arthritis in your dog or cat and help to ensure your pet's joints work at their optimum ability.
It has been shown to be essential in the healthy development and ongoing maintenance of connective tissue and synovial fluid. Research studies indicate that Glucosamine supports healthy joint flexibility, mobility and lubrication.  It helps to rebuild the cartilage and delay further cartilage breakdown.  It also appears to have some anti-inflammatory properties.
Methylsulfonylmethane (MSM) is a natural source of organic sulfur that is found naturally in some raw fruits and vegetables..  Sulfer allows cartilage to rebuild, so it is vital to the maintenance of healthy joints, bones, ligaments and tendons.   MSM is essential for normal cell function, and it decreases inflammation and pain and acts as an antioxidant.  There is also evidence suggesting that it increases the effectiveness of glucosamine.
Sea mussels also contain Chondroitin Sulfate, which works in tandem with Glucosamine. And hyaluronic acid helps to keep cartilage strong and flexible to better cushion joints.
Boswellia supports many parts of the body including bone, lung and liver.  Many holistic doctors agree that a healthy liver is paramount in supporting the health of any portion of the body, including the joints.  Its frame for joint support is probably through its enhancement of blood flow to the joints and its remarkable ability to soothe.
Alfalfa is a grass rich in minerals and antioxidants, used by herbalists for generations for bone support.
Green Lipped Muscles, also known as edible shellfish, have many of the nutrients that bone and support tissue needs.   It is a whole food that contains protein, fats, vitamins, minerals and chondroitin sulfate.  It was selected as an ingredient for the Agility supplement because all of its components work together to support the joints.  Some of these components are able to provide some of the nutrients the added glucosamine requires for optimum utilization.
These nutrients work synergistically with the other ingredients in Agility (vitamins E and C, chondroitin sulfate, manganese and boron) to supply your companion animal with a comprehensive formula to help maintain the health of the entire musculoskeletal system.
And last but not least, this holistic formula has a delicious meat flavor that pets love!  Join thousands of satisfied customers, and help your dog or cat to live a healthier and happier life with Agility Formula.
Life's Abundance Agility Formula Active Ingredients – Per 1 Chewable Tablet (3g):
Methylsulfonylmethane (MSM) – 600 mg
Glucosamine HCI (Shellfish Source) – 500 mg
Perna Canaliculus – 300 mg
Alfalfa Leaf Extract-50 mg
Ascorbic Acid (Vitamin C) -50 mg
Boswellia Serrata – 50 mg
Chondroitin Sulfate (from kollaGen II-xs) – 15 mg
Hyaluronic Acid (from kollaGen II-xs) – 10 mg
Manganese (as Proteinate) – 5 mg
Boron (as Citrate) – 0.1 mg
Inactive Ingredients:
Dicalcium Phosphate, Dried Chicken Liver, Microcrystalline Cellulose, Natural Chicken Flavor, Silicon Dioxide.
Suggested Daily Use By Weight
| | | |
| --- | --- | --- |
|          Body Weight |    Week 1 | After 1 Week |
|  Less than 25 lbs. |  1 tablet |  1/2 tablet |
|  25-49 lbs. |  2 tablets |  1 tablet |
|  50-100 lbs. |  3 tablets |  1-1/2 tablets |
|  Over 100 lbs. |  4 tablets |  2 tablets |
Recommended for older pets (senior cats 10+ years, senior dogs 6+ years) and large breed or long-backed dogs of all ages.
 Life's Abundance Agility Formula is available in 60 and 120 Chewable Tablets. 
60 Tablets – Retail Price: $43.23; Discount Autoship Price: $36.95
120 Tablets – Retail Price: $74.82; Discount Autoship Price: $63.95
Click Here to Order Agility Formula Supplement

Warning
For animal use only. Keep this product out of reach of children and pets to avoid unintended consumption. Giving your pet more than the recommended dose will not increase results. In case of accidental overdose, contact a veterinarian immediately. Always consult your veterinarian to ensure proper long term care for your pet. If your pet's condition worsens or does not improve, stop product administration and consult your veterinarian. Do not use if product appears to be tampered with or seal is broken. Store at room temperature.
---
Important Disclaimer: The stories and information on this site are not meant to diagnose or prescribe for you. If you or your pet has a medical problem, you should consult your medical doctor or veterinarian. The ideas and information on this site have not been endorsed or approved by the FDA. In no event shall the owners of this website be liable for any damages whatsoever resulting from any action arising in connection with use of this information or its publication, including any action for infringement of copyright or defamation. The decision to use, or not to use, any information is the sole responsibility of the reader. Opinions expressed here are those of individual contributors. This web site does not verify or endorse the claims of contributing writers.