Fly Free Food Supplement – a safe & effective way to repel flies & other insects
Fly Free is a nutritious liquid supplement that can be added to animals' food or drinking water.  It can be given to all animals, including horses, cattle, sheep, goats, pigs and other farm animals, zoo animals, chickens and other  birds, and domestic pets, such and dogs, cats, and hamsters.
All-Natural Liquid Supplement – SAFE For All Animals!
Works on All Blood Feeding Insects – Fleas, Ticks, Mites, Lice, Mosquitoes,  Gnats, and Biting Flies
Over 200 Vitamins, Minerals & Enzymes to Help Keep Your Pet Healthy
Simply Add to Animal's Drinking Water or Food
Click here to order Fly Free Food Supplement.
How does Fly Free work?
When used daily, this supplement helps to prevent blood feeding insects from biting.  This includes flies, fleas, ticks, gnats, mosquitoes, mites, and lice.
As Fly Free enters the blood stream, it produces an enzyme that shields the protein needed by the female in order to lay eggs.  If she cannot sense this protein, she will not bite the animal but will instead look for another place to draw blood.
Fly Free Food Supplement also enhances the overall health and well being of animals.  Containing over 200 vitamins, minerals, enzymes, and amino acids, Fly Free can lead to a healthier coat and skin and help to control infections.
---
Fly Free Food Supplement is safe for ALL animals.
Natural Pet Products created this unique supplement in 1985, and for over 37 years Fly Free has protected animals found in:
Pet owners' homes
Farms
Zoos
Stables
Ranches
Wildlife sanctuaries
Kennels
Aviaries
Breeders' and Boarding facilities
The manufacturer, Natural Pet Products, also makes an effective natural fly spray and fly garlic powder.
---
Ingredients
44% Vinegar
6% Garlic
2.5% Lemon Juice
3.1% Ginger
44.4% Purified Water
---
Fly Free Supplement Directions
 Mix one part Fly Free to three parts water.  Add 1/2 cup of mixture daily to large animal's feed.
64 oz Fly Free Food Supplement       $54.95
128 oz Fly Free Food Supplement     $87.95

---
Fly Free Garlic Powder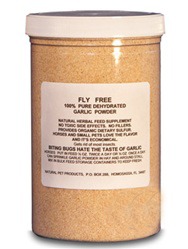 The company that made the fly supplement also makes a fly powder.
Unlike the liquid supplment that is ingested, this powder is spread around the barn to help keep flies, mosquitoes and other pesky insects away from horses and large animals.
Fly free powder is 100% pure dehydrated garlic powder.  It has a strong garlic scent when first applied but scent lessens after settling for awhile.    
Directions: sprinkle around barns or anywhere horses or other large animals bed down.  It can also be mixed with feed or hay to provide a healthy supplement.
 Available in 3 lb containers and lasts 96 days per horse.    $41.97
Click Here to Order Fly Free Garlic Powder.
---
Important Disclaimer: The stories and information on this site are not meant to diagnose or prescribe for you. If you or your pet has a medical problem, you should consult your medical doctor or veterinarian. The ideas and information on this site have not been endorsed or approved by the FDA.  In no event shall the owners of this website be liable for any damages whatsoever resulting from any action arising in connection with the use of this information or its publication, including any action for infringement of copyright or defamation. The decision to use, or not to use, any information is the sole responsibility of the reader. Opinions expressed here are those of individual contributors. This web site does not verify or endorse the claims of contributing writers.
The statements above have not been evaluated by the Food and Drug Administration.  This product(s) is not intended to diagnose, treat, cure, or prevent any disease.