Cat Anxiety and Cat Litter Box Problems
Frazzled felines will sometimes relieve their anxiety by urinating, or marking (spraying) outside the cat litter box. Here are a few of the causes and the solutions to calm your kitty down.
Like humans, cats like their routines and daily habits. When something changes in their home, one way their anxiety may manifest itself is by urinating outside the cat litter box. With a little bit of work and patience, your kitty can be calmed down and get back to her good litter box habits.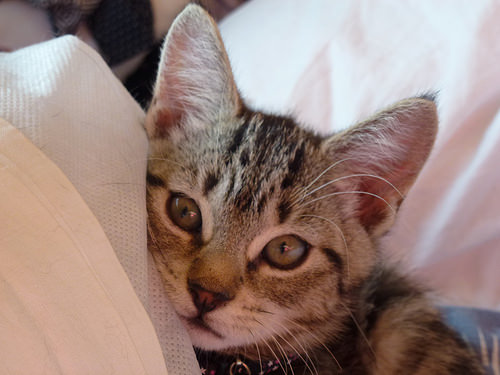 Here are just a few situations that can make cats anxious:
– A new person or pet comes to live in your household
– You change jobs and your daily schedule
– A trip to the vet
There are many more situations, but these can be fairly common stressors for felines.
A new person or pet comes to live in your household:
If you're introducing a roommate of the human kind, be sure this individual understands that cats are different from dogs. They don't play the same, and cats may be viewed as being cold or aloof. Tell your new roommate about your cat's personality, likes, and dislikes. Then introduce them to one another.   It may take a couple weeks for everybody to get adjusted to one another.
One thing you may want to do during this transition period is to either confine your cat to her favorite room with her food, water, clean cat litter box, and toys, or keep the roommate's bedroom shut to prevent your cat from marking the new housemate's clothes, furniture, and possessions. Supervisor your cat's forays into this person's space. Your new roommate may opt to keep the door shut permanently. This won't be a problem unless your kitty is constantly curious about what's behind the closed door.
You change jobs and your daily schedule:
Cats like to know when their big cat mom and/or dad are coming and going, so they can adjust their schedules accordingly. If you or your partner takes a new job that drastically changes your household routine and lifestyle, your cat may get upset. She might react by refusing to use the cat litter box.
Observe your cat carefully. If you find cat urine puddles outside the litter box once the new routine has been established, you'll need to confine your cat to limit the damage to one area of your home and retrain her to back to good litter box habits. For the first week or so, spend more time with your cat and reassure her that everything is OK, and her life is going to be just
fine.
On the other hand, she may adjust with no reaction whatsoever, because she realizes you're still coming home at night, and she's getting love and delicious cat food from you.
A trip to the vet:
This ranks high on any kitty's list of terrors! The loud noises, the strange smells, and unknown people handling her can be very stressful. Once you get kitty home from the awful place where she's stuck with things in unmentionable places, you may want to confine her to a quiet location in your home for a few hours. Give her food, water, a clean cat litter box, and her toys. She'll generally be just fine in less than half a day.  What are the solutions for these situational anxiety problems?
Many feline owners have discovered natural flowering essences and synthetic feline pheronomes are very effective in alleviating cat anxiety. Some of the more popular ones are Bach's Rescue Remedy, Nerve Ease, Pet Calm Supplement, and the Feliway Comfort Zone Plug in modules.
Bach's Nerve Ease is a liquid compound that can be administered directly into your cat's food or water. A few drops twice a day make a big difference for most anxious cats.
The Pet Calm Supplement is a homeopathic formula that immediately calms anxious, stressed and highly strung pets.
The Feliway Comfort Zone Plug in modules are synthetic feline pheronomes that calm cats down. The Feliway module plugs directly in your electrical wall socket. The pheronomes are then diffused, or transmitted throughout the room. Many cat owners buy several of these of these plug in modules, and install them in kitty's favorite rooms throughout their house. Each bottle lasts approximately 30 days.
For feline anxiety,  try the natural flowering essences, Pet Calm, or the Feliway Plug in modules. One or the other work very well for most cats.
---
Important Disclaimer: The stories and information on this site are not meant to diagnose or prescribe for you. If you or your pet has a medical problem, you should consult your medical doctor or veterinarian. The ideas and information on this site have not been endorsed or approved by the FDA.  In no event shall the owners of this website be liable for any damages whatsoever resulting from any action arising in connection with the use of this information or its publication, including any action for infringement of copyright or defamation. The decision to use, or not to use, any information is the sole responsibility of the reader. Opinions expressed here are those of individual contributors. This web site does not verify or endorse the claims of contributing writers.
The statements above have not been evaluated by the Food and Drug Administration.  This product(s) is not intended to diagnose, treat, cure, or prevent any disease.
Healthy Food For Pets
512 Allspice Way
Oceanside, CA 92057
Toll Free: (877)-877-0665
E-Mail: HealthyFoodForPets@cox.net