Flint River Ranch Update:
We are very sad to report that Flint River Ranch has shut down operations and will no longer be offering pet foods going forward. We will miss FRR's wonderful formulas, and it has been a joy introducing Flint River Ranch to so many of our customers' pets.
May We Suggest – Life's Abundance Pet Food and Treats
We represent another excellent pet nutrition company that also offers outstanding dog and cat products that we're sure your pets will love. The company, Life's Abundance, offers super healthy products that are formulated by a holistic veterinarian. Products are made in the U.S.A. and have never been recalled!
We love Life's Abundance. Their all natural pet foods and treats contain absolutely none of the unhealthy fillers, animal byproducts, chemical preservatives, or artificial additives that are in most brands. They truly provide the Best for Less – the best in quality for less money, less time and less hassle!
Learn more about Life's Abundance pet products by clicking on the links below. You will be taken to our Life's Abundance web site.
Click here to view Life's Abundance Healthy Assortment of Dog Food Formulas!
Click here to view Life's Abundance Products!
Click here to view Life's Abundance Samples!
---
Flint River Ranch Kibble and Nugget Dog Food
"It actually caused a fight between her and her sister."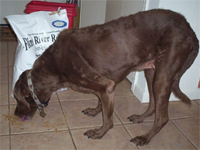 "I'll have to tell you. The dog food came today, and my basset, Rosebud is hooked! It actually caused a fight between her and her sister. I had been feeding "Professional" brand and I had to play the game of what I should mix with it-hmmm, cottage cheese or chicken that I would cook all night in the crockpot. Then they still wouldn't clean their bowls.
Thank you, Maribeth Walker" (Minerva, OH)
What Makes Our Dog Food So Healthy & Unique?
Shipping included in the price!
All natural dog food ingredients
Preservative free – No Ethoxyquin, BHA, or BHT!
No By Products, Fillers, Artificial Colors or Flavors!
Nutritionally Complete & Balanced for All Stages of your Dog's Life!

Costs Less in the Long Run! (The food is high density, so you feed 20-25% less than other foods.)
Easy to Digest & Nutrition is More Easily Absorbed!
Less Odor & Stool Clean-up!
Veterinarians, kennel owners, & breeders feed & recommend Flint River Ranch all natural dog food!

DO THE TASTE TEST!
Show your dog you love him! Take two clean bowls. Place your regular dog food in one and the Flint River Ranch Food in the other and watch what happens.

YOUR DOG WILL TALK TO YOU!

---
"It's all what you feed your dogs."
Melissa Zawislak, AR
---
…Buddy just loves the food and look how shiny his coat is…It's all what you feed your dogs. I believe in Flint River Ranch and will be forever grateful for finding your website.Thanks,
Melissa Zawislak
Mountain Home, AR
---

"It came today. We had fun with Phoebe. We set her food, and the two types you sent us and watched what she would do. She sniffed her Science Diet first, then went to the other ones. She liked both of the ones from you. She would constantly sniff hers, but never ate it.
Then we mixed them up with her Science Diet and she picked your dog food out while making a mess and dropping the Science Diet out of her mouth. It was so cute and funny. I remember reading one of your testimonials that did the same thing. I thought that was funny.
We will get in touch soon.
Chris Fortune"
---
| | |
| --- | --- |
| Kibble Dog Food | Price |
| 10 lbs. | $28.39 |
| 20 lbs. | $43.97 |
| 40 lbs. | $79.97 |
| 200 lbs. | $387.99 |
| | |
| --- | --- |
| Nugget Dog Food | Price |
| 20 lbs. | $43.97 |
| 40 lbs. | $79.97 |
| 200 lbs. | $387.99 |
What is the difference between Kibble and Nugget Dog Food?
Kibble Dog Food comes in smaller sized pieces, so it is good for smaller dogs.
Nugget Dog Food pieces are larger in size, a little over 1/4-inch square in shape. It is the same recipe formula as Flint River Ranch Original Kibble Dog Food. (This nugget shape is also used for FRR Fish & Chips Dog Food formula.) Nugget Dog Food is beneficial for most dogs of regular and large size. It is not recommended for toy or small dogs. Like the Kibble Dog Food, the Nugget Food is oven-baked. Some pet owners feel the nugget shape is better for the dog's teeth and gums. Though they like the more uniform shape, there may still be broken pieces.
---

"My girls love the dog food that I purchase from you. They will never get anything else. I have 3 Shih Tus (Iggy, Babbit & Bean). It is a treat for them everytime I feed them. They are the happiest dogs in the world being on Flint River Ranch food.
Thank you for a great product!!!"
(Janita Schmitz: Fermi, CT)

---
It is better to introduce Super Premium foods by mixing with your dog's usual food and increasing the amount of Flint River Ranch over several days. It will take time for your dog to adjust to the Super Premium quality. A sudden change in any food source may be a shock to your dog's digestive system, so you may notice loose stool. If so, reduce the amount being fed until your dog adjusts.
Flint River Regular Dog Food Analysis:
| | | |
| --- | --- | --- |
| | Guaranteed Analysis | Average As Fed |
| Crude Protein (Min.) | 23% | 23.50% |
| Crude Fat (Min.) | 12% | 12.30% |
| Crude Fiber (Min.) | 4% | 2.25% |
| Moisture (Max.) | 10% | 8.80% |
| Ash (Max.) | 9% | 8.50% |
| Caloric Density (KCAL/lb.) | | 1780 |
| Caloric Density (KCAL/C) | | 477 |
| Grams/Cup | | 121 |
Ingredients:
Chicken Meal, Whole Wheat Flour, Ground Rice, Lamb Meal, Poultry Fat (Preserved with Tocopherols and Ascorbic Acid), Ground Wheat, Flaxseed, Dried Whole Egg, Lecithin, Fish Meal, Brewers Dried Yeast, Wheat Germ Meal, Dried Kelp, Dehydrated Alfalfa Meal, Salt, Potassium Chloride, Ferrous Sulfate, DL-Alpha Tocopherol Acetate (Source of Vitamin E), Zinc Oxide, Selenium Supplement, Manganous Oxide, Riboflavin Supplement (Vitamin B2), Copper and Cobalt, Niacin, Ascorbic Acid (Source of Vitamin C), Vitamin B12 Supplement, Vitamin A Supplement, Calcium, Pantothenate, D-Biotin Supplement, Pyridoxine Hydrochloride (Vitamin B6), Calcium Iodate, Thiamine Mononitrate, Folic Acid, Vitamin D3 Supplement.
---
Important Disclaimer: The stories and information on this site are not meant to diagnose or prescribe for you. If you or your pet has a medical problem, you should consult your medical doctor or veterinarian. The ideas and information on this site have not been endorsed or approved by the FDA. In no event shall the owners of this website be liable for any damages whatsoever resulting from any action arising in connection with the use of this information or its publication, including any action for infringement of copyright or defamation. The decision to use, or not to use, any information is the sole responsibility of the reader. Opinions expressed here are those of individual contributors. This web site does not verify or endorse the claims of contributing writers.
The statements above have not been evaluated by the Food and Drug Administration. This product(s) is not intended to diagnose, treat, cure, or prevent any disease.
---