Flint River Ranch Update:
We are very sad to report that Flint River Ranch has shut down operations and will no longer be offering pet foods going forward. We will miss FRR's wonderful formulas, and it has been a joy introducing Flint River Ranch to so many of our customers' pets.
May We Suggest – Life's Abundance Pet Food and Treats
We represent another excellent pet nutrition company that also offers outstanding dog and cat products that we're sure your pets will love. The company, Life's Abundance, offers super healthy products that are formulated by a holistic veterinarian. Products are made in the U.S.A. and have never been recalled!
We love Life's Abundance. Their all natural pet foods and treats contain absolutely none of the unhealthy fillers, animal byproducts, chemical preservatives, or artificial additives that are in most brands. They truly provide the Best for Less – the best in quality for less money, less time and less hassle!
Learn more about Life's Abundance pet products by clicking on the links below. You will be taken to our Life's Abundance web site.
Click here to view Life's Abundance Healthy Assortment of Dog Food Formulas!
Click here to view Life's Abundance Products!
Click here to view Life's Abundance Samples!

---
Perfect for food sensitive or large breed dogs!
Fish and Chips Dog Food is: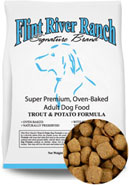 An all-natural, oven baked dog food.
Made from premium, hormone, antibiotic and mercury free rainbow trout and potato.
Promotes and maintains healthy bones, vision, and teeth to insure your dog gets the best natural ingredients available.
Processed in plants located within the United States.
Ideal for dogs with food allergies!
Contains NO corn, wheat, chicken, soy or rice.
Free of by-products, artificial colors and flavors, & chemical preservatives!
| | |
| --- | --- |
| Fish & Chips Dog Food |  Price |
| 10 lbs. |  $31.57 |
| 20 lbs. |  $49.57 |
| 40 lbs. |  $91.27 |
| 200 lbs. | $443.99 |
Fish and Chips premium formula is free of:
corn, wheat, chicken, and soy — four of the most common allergens in dog foods — making it an ideal diet for dogs prone to skin or food-related allergies.
Fish and Chips dog food formula features U.S.-grown cold water Rainbow Trout as its primary protein source, raised under special feeding requirements without any hormones, antibiotics or feed additives and certified mercury-free. Containing no wheat or rice, this premium dog food formula makes an ideal choice for those troubled by the melamine-contaminated wheat gluten and rice protein concentrate ingredients in the international pet food recall. (No Flint River Ranch formulas have ever been recalled.)
This Rainbow Trout and Potato dog food also packs a healthy assortment of herbs, fruits, probiotics, digestive enzymes, essential vitamins, minerals, and omega fatty acids for healthy skin and coat — all resulting in better nutrition, palatability, and digestibility.  Only wholesome ingredients and absolutely no by-products, artificial colors or flavors, chemical preservatives, BHA, BHT, or Ethoxyquin!
Available in the larger "nugget" sized pieces which are great for the teeth of large breed dogs.
"Deena,We have been using exclusively the Flint River Trout and Potato (Fish & Chips) for just over a year for our Bullies and the improvement is phenomenal.The biggest improvement has been our yellow Lab, Faith.  We spent four years of constant treatment with Panalog – Ottman with minimal improvement.  Her allergies were so bad that we had a Vettell us we would have to get her ears amputated.   (That's when our frantic search brought us to Flint River Ranch).After two weeks on Flint River she was a different dog.  After just one month her ears were healed, and her coat was soft and thick!What a difference "True Quality" food makes.  We tell everyone about it, and recommend it to every dog owner we come in contact with.  I know that several people we have referred are now using Flint River.Thank You,Jamie B. Kimball"
"My dogs love the Fish & Chips!  I tried a couple of other allergy brands and they didn't eat a lick!  This food has changed Hula Girl's life and has gotten her allergies under control.  It turns out that I've been feeding her Moist n Meatys for the past couple of years only to provoke her itchy ears.  With Fish& Chips, she's finally gotten relief!THANKS@!!Kari Elsts (Richmond, VA)
"Deena,   A huge thank you from a devoted Lab Mom and professional pet nanny!  We have 3 labs and have tried every type of food out there!  But poor choc. Mocha Soup, was allergic to everything and chewed her feet till they were raw!  And then would scratch and be so lethargic!  But upon receiving the Trout and Sweet Potato kibble, not only was Mocha happy, running around, but her feet are completely healed.  Older, finicky sister Molly Tamale, actually pushed her sister out of the way to finish her bowl of Trout!  Our pups that board with us crave that food and I will tell all their owners to order this for their babies! You have saved us $$$$$$ in vet bills.  Such great service and such a fantastic product!  Lisa,  Redmond, WA"
Ingredients:
Trout, Potato, Course Ground Millet, Herring Meal, Oatmeal, Sweet Potato, Canola Oil (preserved with mixed tocopherols), flax seed, oat bran, natural flavors, blueberries, cranberies, rosemary, grape seed oil, menhaden fish meal, granola, ground oats, alfalfa meal, brewer's dried yeast, dried eggs, lecithin, yucca schidigera extract, choline chloride, zinc sulfate, dl-alpha tocopherol acetate, zinc amino acid complex, selenium supplement, mixed natural tocopherols (antioxidant), niacin, iron, amino acid complex, Vitamin B-12 supplement, calcium pantothenate, Vitamin A acetate, ascorbic acid, iron sulfate, pyridoxine hydrochloride, manganese amino acid complex, thiamine mononitrate, manganous oxide, copper amino acid complex, copper sulfate, riboflavin supplement, folic acid supplement, ethylenediamine dihydrodide, D-biotin supplement, Vitamin D-3, dried bacillus subtilis fermentation product, dried aspergillus oryzae fermentation product
GUARANTEED AVERAGE ANALYSIS
Crude Protein (Min.) 21%
Crude Fat (Min.) 12%
Crude Fiber (Max.) 3.5%
Carbohydrates (Avg.) 44%
Moisture (Max.) 10%
Ash (Max.) 9%
Potassium (Max.) 0.60%
Copper (Max.) 6.5 mg/kg
Caloric Density (KCAL/Cup) 473
---
Important Disclaimer: The stories and information on this site are not meant to diagnose or prescribe for you. If you or your pet has a medical problem, you should consult your medical doctor or veterinarian. The ideas and information on this site have not been endorsed or approved by the FDA.  In no event shall the owners of this website be liable for any damages whatsoever resulting from any action arising in connection with the use of this information or its publication, including any action for infringement of copyright or defamation. The decision to use, or not to use, any information is the sole responsibility of the reader. Opinions expressed here are those of individual contributors. This web site does not verify or endorse the claims of contributing writers.
The statements above have not been evaluated by the Food and Drug Administration.  This product(s) is not intended to diagnose, treat, cure, or prevent any disease.