Flint River Ranch Update:
We are very sad to report that Flint River Ranch has shut down operations and will no longer be offering pet foods going forward. We will miss FRR's wonderful formulas, and it has been a joy introducing Flint River Ranch to so many of our customers' pets.
May We Suggest – Life's Abundance Gourmet Cat Treats  
Life's Abundance Gourmet Cat Treats

We represent another excellent pet nutrition company that also offers outstanding dog and cat products that we're sure your pets will love. The company, Life's Abundance, offers super healthy products that are formulated by a holistic veterinarian. Products are made in the U.S.A. and have never been recalled!

We love Life's Abundance. Their all natural pet foods and treats contain absolutely none of the unhealthy fillers, animal byproducts, chemical preservatives, or artificial additives that are in most brands. They truly provide the Best for Less – the best in quality for less money, less time and less hassle!

Learn more about Life's Abundance pet foods and treats by clicking on the links below. You will be taken to our Life's Abundance web site.

Click here to view Life's Abundance Gourmet Cat Treats!
---
Flint River Ranch Sun-Dried Bonita Flakes – a very light and tasty snack for cats and kittens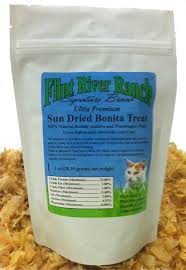 Flint River Ranch Sun-Dried Bonita Flakes are professionally harvested off the open waters of Japan, and naturally sun-dried to produce a  tasty snack for cats and kittens.
Bonita is the common name for a fish belonging to the tuna and mackerel family, and bonita flakes are often used in Japanese cooking. These low-fat flakes are as light and thin as rice paper. And the irresistible aroma will bring your kitty running!
Bonita Fish Flakes Cat Treats provide a high protein snack and promote the health and vitality for cats of all breeds, sizes and ages.
If your cat is ill or losing weight, add Bonita Flakes to the food to stimulate eating. 
Use these tasty treats to help establish socialization, assist with personal bonding, or to just reward your kitty for good behavior.  Feed just a pinch or add as a healthy addition to your cat's food.
Like all Flint River Ranch products, Bonita Flakes human grade cat treats contain no chemical preservatives, animal by-products, or artificial additives and colors.
Refrigeration is not required for the flakes, but is recommended after opening for extended freshness.
INGREDIENTS:
100% Dehydrated Bonita Fish Flakes
---
 Important Disclaimer: The stories and information on this site are not meant to diagnose or prescribe for you. If you or your pet has a medical problem, you should consult your medical doctor or veterinarian. The ideas and information on this site have not been endorsed or approved by the FDA.  In no event shall the owners of this website be liable for any damages whatsoever resulting from any action arising in connection with the use of this information or its publication, including any action for infringement of copyright or defamation. The decision to use, or not to use, any information is the sole responsibility of the reader. Opinions expressed here are those of individual contributors. This web site does not verify or endorse the claims of contributing writers.
The statements above have not been evaluated by the Food and Drug Administration.  This product(s) is not intended to diagnose, treat, cure, or prevent any disease.