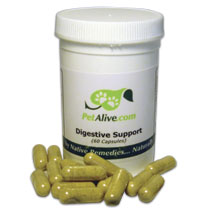 Promotes healthy pet digestion

60 Day Unconditional Money Back Guarantee

Supports routine absorption of nutrition and soothes gastric mucus membranes

Maintains health energy levels and general well-being
Digestive Support:  Soothes Stomach Bloat and the Digestive System of Cats and Dogs
"My beautiful collie has not been so comfortable in years. He just seems to be so much happier and healthier and we are so pleased that we followed your advice regarding Digestive Support…"  —Alison, NJ, USA
Click Here to Order Digestive Support!
Digestive Health in Pets:
Domestic animals, like humans, are subject to the damaging effects of cooked and processed foods, food additives, environmental pollution, and the stress of modern day living. All of these factors can affect digestive functioning and lead to a range of digestive problems.
As pet owners, we try to do the best for our animals and to feed them healthy, nutritious food that will not harm them. However, advertising and the claims of some pet food manufacturers have contributed to the misinformation surrounding what is best for our pets.
The result is that pets in today's world may not enjoy the same support for healthy digestion as they may have had in the past.
The Natural Way:
There is a lot you can do to support your pet's digestive system naturally. Try to feed your pet organic foods where possible and avoid giving your animal fatty foods or foods with excessive sugar. Never give an animal chocolate or junk foods – not only are these foods unhealthy, but they may upset your pet's digestive harmony. Your pet should be fed a diet of 20% protein and the rest of their diet should be made up of healthy carbohydrates and vegetables. Vegetables will provide a good source of fiber, and healthy pet treats can also promote digestive health.
How can natural remedies help?
In the wild, animals instinctively eat herbs that can assist their digestive systems to function optimally. Unfortunately, domestic animals do not have access to the variety of herbs available to their wild counterparts and therefore miss out of the benefits of herbs growing in the wild.
As pet owners, the best way to correct this would be to provide your animals with herbal supplements, known to provide the same benefits. Herbal remedies have a long history of promoting digestive health – knowledge which has, in many cases, been confirmed via more recent clinical research.
Holistic practitioners recognize that the whole animal should be treated to maximize health and reduce imbalance in the system caused by a variety of environmental and dietary stresses.
A combination of natural medicine, healthy diet, and regular exercise will help your pet to maintain digestive health and functioning.

---
What is Digestive Support?
Digestive Support is a 100% herbal remedy specially formulated to support digestive health and functioning in pets.
Digestive Support is an excellent digestive system tonic and contains three carefully chosen herbs in therapeutic dosage to soothe and support the stomach lining, esophagus, and entire digestive tract.
Presented in easy to administer capsules, Digestive Support can be given whole, or the capsules may be opened and the contents mixed with a favorite treat.

---
How has Digestive Support helped others?
"Thank you for the help and guidance you have given me. My beautiful collie has not been so comfortable in years. He just seems to be so much happier and healthier and we are so pleased that we followed your advice regarding Digestive Support and diet."  —Alison, NJ
"My five-year-old schnauzer/beagle mix, Benjamin, has been plagued with severe health problems. The first few years of his life were filled with numerous traumatic episodes of severe illness and emergency visits to the vet's office. Today, Ben is healthy, thriving, and happy thanks to your company's wonderful Digestive Support capsules. These amazing supplements have made all the difference.  Thank you for restoring balance to Ben's body and our home!"  —Raegan, MD, USA
"Thank you to your team with their kindness, help and support. After all the different things I have spent money on, the most effective has been your Digestive Support capsules. They are easy to administer without fighting and wastage!"  —LRV
"PetAlive will definitely be my first resort from now on…. My animals are my world and the natural way just makes so much more sense!!!!"  —Gayle.
"We have two Himalayan cats, one female and one male, and will be getting another in about two weeks. We love our cats and they are like part of the family. I saw your ad on the internet and I decided all natural would be worth trying as it would not hurt her and just might help. I am very happy to report that after about three weeks of giving her your Digestive Support she is like a different cat; she plays with the other cat and is once again loving with us. She has normal trips to the litter box and we are really enjoying her again. Thanks again.… I give her half a capsule in about 1/2 tsp boiled chicken and she takes it very happily. I am recommending it to everyone I see. Again thanks for giving us back our "Suga""  —Pat, OH

Disclaimer: Testimonials have been edited to comply with FDA regulations. While positive results are likely, the testimonials used are general results and are not intended to represent or guarantee that anyone will achieve the same or similar results – individual results may vary.
---
What are the Ingredients in Digestive Support?
Digestive Support contains the following ingredients:
Glycyrrhiza glabra (licorice) is an excellent tonic for the intestines, bladder, kidney and entire digestive tract. This herb is also very effective in soothing the lining of the digestive tract. It has long been used as an herbal remedy for gastro-intestinal health and is well known for its immune-supporting properties. Licorice also exerts a gentle relaxing action on the bowels, helping to support healthy digestion and waste removal and has been investigated for its promotion of liver health. (Arase Y, Ikeda K, Murashima N, et al. "The long term efficacy of glycyrrhizin in chronic hepatitis C patients". Cancer 1997;79(8):1494-1500.)
Ulmus fulva (slippery elm) is known for its bark, which is an excellent digestive herb rich in trace minerals, manganese, iodine, protein and soothing mucilage. It is a very highly respected herb in naturopathic circles and is regularly used by holistic veterinarians to improve the health of the digestive tract. (DeHaan RL. Home remedies for pets. J Am Holistic Veterinary Med Assoc 1994;12:26.)
Althaea officinalis (marshmallow) is a well known remedy for digestive health and contains large sugar molecules, called mucilage, which exert a soothing demulcent effect on the mucous membranes of the digestive tract. This makes Marshmallow an ideal natural remedy to support a healthy lining in the digestive tract.
Rice Powder (inactive ingredient)
Native Remedies' products are created using our Full Spectrum Approach™ (FSA), a set of standards and processes that combine the best quality, laboratory tested, raw ingredients, Good Manufacturing Practices and a Full Spectrum manufacturing method to guarantee you products of the highest quality, safety and effectiveness, all backed by our One Year Unconditional Money Back Guarantee.Our products are not tested on animals and individual ingredients are well-researched and are natural, safe and effective.
How do I use Digestive Support?
Digestive Support comes in convenient capsule form.
Capsules may be swallowed whole by larger dogs. However, most owners find that it is easier and more convenient to open the capsule and mix the contents with wet food or a treat and prevent stress to both pet and owner!
Cats especially hate to have capsules forced down their throats and will happily eat the dried herb when it is mixed with a treat, a little fish or rolled into a butter ball.
DIRECTIONS
Cats: 1/2 capsule twice daily
Dogs under 20 lbs: 1/2 capsule twice daily
Dogs 20-50 lbs: 1 capsule twice daily
Dogs over 50 lbs: 1-2 capsules twice daily
Caution:
Safety during pregnancy and nursing has not been established.
Digestive Support is highly recommended along with the following products:
How long until I see results?
Response times may vary based on individual variables. However, as with all good tonics, an initial improvement should be noted within 10 – 14 days and continued gradual improvement should follow.
What else can help?
Keep diet varied and interesting, but watch out for foods that your pet may be allergic to.

Regular exercise helps to build up a healthy appetite and gets all organs in the body functioning well. It also helps to relieve stress and contributes to a healthy, happy pet!

Animals need time outdoors where they can naturally seek out herbs that will help them maintain the health of their digestive system. All carnivorous animals, including dogs and cats, will naturally induce vomiting from time to time as a cleansing process to get rid of excess bile, mucus and other impurities. They do this by eating plants which will induce purging. This is healthy and animals should not be reprimanded for it!

Add green sprouts to your pet's food every day. This is an easy way to improve digestion and supply much-needed vitamins, amino acids, and trace elements.

Consult a holistic veterinarian for advice about the health problems associated with routine vaccination and regular antibiotic use.

For animals that suffer from constipation, ensure adequate roughage in the diet and use

Natural Moves for Pets

for dogs and cats.
How long will a bottle last?
Depending on the size of your pet, Digestive Support will last 15 – 60 days.
A 45-180 day supply of 3 bottles is offered at a discount.  See the Buy 2 Get 1 FREE special below.
---
Important Disclaimer: The stories and information on this site are not meant to diagnose or prescribe for you. If you or your pet has a medical problem, you should consult your medical doctor or veterinarian. The ideas and information on this site have not been endorsed or approved by the FDA.  In no event shall the owners of this website be liable for any damages whatsoever resulting from any action arising in connection with the use of this information or its publication, including any action for infringement of copyright or defamation. The decision to use, or not to use, any information is the sole responsibility of the reader. Opinions expressed here are those of individual contributors. This web site does not verify or endorse the claims of contributing writers.
The statements above have not been evaluated by the Food and Drug Administration.  This product(s) is not intended to diagnose, treat, cure, or prevent any disease.