Flint River Ranch Update:
We are very sad to report that Flint River Ranch has shut down operations and will no longer be offering pet foods going forward. We will miss FRR's wonderful formulas, and it has been a joy introducing Flint River Ranch to so many of our customers' pets.
May We Suggest – Life's Abundance of Pet Food and Treats
We represent another excellent pet nutrition company that also offers outstanding dog and cat products that we're sure your pets will love. The company, Life's Abundance, offers super healthy products that are formulated by a holistic veterinarian. Products are made in the U.S.A. and have never been recalled!
We love Life's Abundance. Their all-natural pet foods products and treats contain absolutely none of the unhealthy fillers, animal byproducts, chemical preservatives, or artificial additives that are in most brands. They truly provide the Best for Less – the best in quality for less money, less time, and less hassle!
Learn more about Life's Abundance pet products by clicking on the links below. You will be taken to our Life's Abundance website.
Click here to view Life's Abundance of Healthy Assortment of Dog Food Formulas!
Click here to view Life's Abundance Products!
Click here to view Life's Abundance Samples!
---
Allergies? Try Flint River Ranch Lamb Meal & Millet Dog Food!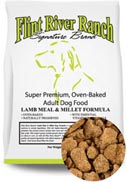 Does your dog scratch and have dry, flaky skin, a dull coat, or a coat with bald spots?
These are all signs of food allergies or food sensitivities.
If your dog is suffering from these problems, eating allergen-free dog food that is free of wheat, corn and chicken can make him look and feel healthy once again.
This all-natural premium kibble is complete and balanced for dogs of all ages, even puppies.  Contains grass-fed lamb from New Zealand, and  there are no GMOs (genetically modified organisms)!
Free Shipping Within U.S.A. & Satisfaction Guaranteed!

---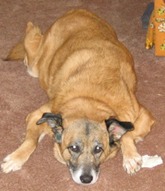 "Hi, Deena!
     Time to order more LAMB/MILLET/RICE for my SASSY.  Of course, as I told you before, all four of my babies love this food and prefer it to theirs.
The important part is that Sassy is no longer biting, itching, or scratching at herself!   Her hair is back in the spots where she was chewing and she is doing terrific!  She loves the LAMB/Millet/Rice and is healthy again thanks to this product!
Thanks again for your quick service and delivery and for offering such a wonderful product!"  Susie Given

---
The Lamb Meal & Millet formula
was created for dogs with food allergies and food sensitivities,
and it contains the very finest LAMB!
 It does NOT contain:
Wheat, Corn, or Chicken
Chemical Preservatives
By-Products
Artificial Colors & Additives
It DOES contain:
Premium Quality Grass Fed LAMB MEAT from New Zealand!
Menhaden FISH
Chelated Minerals
Fortified Vitamins
Whole Ground Grains
Grapeseed Oil
Flaxseed and Rosemary
Natural Tocopherols (Antioxidants)
Probiotics and Digestive Enzymes
 Other Features of Lamb Meal & Millet Dog Food:
All-Natural High Quality Human Grade Ingredients
No GMO's
No Sprayed-on Additives
Premium White Fish
Twice-baked for Easy Digestion & Nutrient Assimilation
Excellent Palatability
Low Stool Volume
---
"I would like to say that I'm very happy with the results of feeding my guy the Lamb, Millet Rice Dog Food.  he transitioned to the new food with no problems and is regaining the weight he lost on the "Vet prescribed food".  I'm really thankful I found Flint River Ranch.
I could not put him back on the common store-bought dog food.  Something in it was making him violently ill, and he was eating over 4 cups a day of the other food from the vet and went from 49 lbs to 44 lbs in a month…not good for any dog and not good for a 1-year-old Standard Poodle that is still growing.  But he is doing just fine now, his energy is back up, and his eyes are bright!  I think the Lamb, Millet, Rice Dog Food is just what he needed."  Georgann McGeorge (Phoenix, AZ)
---
This all-natural premium kibble is complete and balanced for dogs of all ages, even puppies.  The lamb is from New Zealand and is grass-fed.  Plus, there are no GMOs (genetically modified organisms)!
Lamb Meal & Millet Dog Food is carefully oven-baked two times. This changes any hard-to-digest molecules into easy-to-digest dextrins. Probiotics and enzymes also make this a highly digestible food. When dogs digest their food, the nutrients are assimilated into the body, resulting in improved health and fewer visits to the veterinarian.  The very finest diet for food-sensitive dogs.
Only the finest quality ingredients are used: premium-quality lamb, menhaden fish, flaxseed, rosemary, chelated minerals, essential vitamins, natural tocopherols, along with probiotics and digestive enzymes. Flaxseed is high in fiber, omega-3 fatty acids, and phytochemicals called lignans. Tocopherols are antioxidant compounds: one of a group of fat-soluble compounds that make up vitamin E, present in vegetable oils and leafy greens.
When switching to a new food for an allergic dog, it's best to feed a single food for two or three weeks. This is because it can take that long for allergy symptoms to abate.  Avoid all treats and other foods during this time.
Also, often pets can benefit from an additional probiotic supplement that provides a higher concentration and wider variety of beneficial microorganisms. We offer a complete line of probiotic supplements/digestive enzymes for pets. Click here to learn about these probiotics/digestive enzymes.
| | |
| --- | --- |
| Lamb Millet Rice  Dog Food |  Price |
| 10 lbs. |   $31.57 |
| 20 lbs. |   $49.57 |
| 40 lbs. |   $91.27 |
| 200 lbs. | $441.89 |
---
"Hi, Deena!
This is actually our second order of the Lamb, Millet, and Rice Wafers.  I emailed you with our first order of the Fish & Chips food.  Our little Chloe has a severe case of colitis.  We were scared to death to give her new food, but she was having attacks every 3 weeks with Science Diet I/D.   The Fish & Chips food didn't work out because she still had attacks.  We have had her on Lamb, Millet, & Rice food for almost 2 months, and she hasn't had any attacks or even any symptoms.  She loves the taste of the food, she loves the treats, she has energy again & is playful.  My husband and I are thrilled and so comfortable again.  Thank you for this product and thank you so much for the advice on how to introduce the new foods to her.  Your concern for her well-being was very comforting.  We look forward to future contact…you certainly have another set of loyal customers in us!"
Mike & Denise Perlich

---
"Dear Bob and Deena,
I would like to order a 20-lb bag of Lamb, Millet Rice dog food.  One of my schnauzers has had "schnauzer bumps" most of his life and we have tried everything to cure them.  For the first time, we are seeing a drastic change in his skin since he has been eating Flint River Ranch.  Thanks so much!
Sincerely, Jan Hopkins" (Mt. Pleasant, TX)
---
PRICE COMPARISON:
When you compare the 40-pound regular Flint River Ranch dog food with the 40-pound Lamb, Millet, and Rice, the price difference is about 9 cents a pound. A standard 8-ounce cup will hold 4.3 ounces of food. Feeding 2.5 to 3 cups a day is about 6 to 7 cents a day. It is FAR LESS expensive than prescription diet foods!
GUARANTEED ANALYSIS:
Protein: Minimum 23%
Crude Fiber: Maximum 4%
Crude Fat: Minimum 10%
Moisture: Maximum 10%
Ash (Max.)* 9%
Caloric Density (KCAL/Lb.) 1475
Caloric Density (KCAL/Cup) 405
Grams/Cup 125
Target pH Level 6.8
Carbohydrates (Avg.) 44%
Omega-6 Fatty Acids 2.50%
Omega-3 Fatty Acids 0.75%
*Ash is what remains after a food sample is burned for analysis. It consists primarily of minerals (including calcium, phosphorous, iron, zinc, and selenium). These minerals are essential to life!
INGREDIENTS:
Lamb Meal, Ground Whole Millet, Ground Whole Rice, Rice Bran, Menhaden Fish Meal, Grapeseed Oil, Flaxseed Meal, Lecithin, Garlic, Rosemary and Sage Extract, Choline Chloride, Zinc Sulfate, dl-Alpha Tocopherol Acetate, Zinc Amino Acid Complex, Selenium Supplement, Mixed Natural Tocopherols (antioxidant), Niacin, Iron Amino Acid Complex, Vitamin B-12 Supplement, Calcium Pantothenate, Vitamin A Acetate, Ascorbic Acid, Iron Sulfate, Pyridoxine Hydrochloride, Manganese Amino Acid Complex, Thiamine Mononitrate, Manganous Oxide, Copper Amino Acid Complex, Copper Sulfate, Riboflavin Supplement, Folic Acid Supplement, Ethylenediamine Dihydriodide, D-Biotin Supplement, Vitamin D3, Bromelain, Papain, Dried Bacillus Subtilis Fermentation Product, Dried Aspergillus Oryzae Fermentation Product.
Vitamin/Mineral Assay (per Kilogram):
Average As Fed
Vitamin A – 21,140 IU
Calcium – 1.94%
Vitamin D – 1,390 IU
Phosphorus  – 1.30%
Vitamin E – 130 IU
Potassium – 0.68%
Vitamin C – 21 mg
Sodium – 0.40%
Thiamine (Vitamin B1) – 14 mg
Chloride – 0.85%
Riboflavin (Vitamin B2) – 10 mg
Magnesium – 0.25%
Pantothenic Acid – 43 mg
Iron – 280 mg
Niacin – 65 mg
Copper  -10.6 mg
Pyridoxine – 14 mg
Manganese – 27 mg
Folic Acid – 2 mg
Zinc  – 180 mg
Biotin – 6 mg
Iodine – 3.8 mg
Vitamin B12 – 0.09 mg
Selenium – 0.24 mg
Formulated to meet the nutritional levels established by the AAFCO Dog Food Nutrient Profile(s) for Adult Dogs.
---
Important Disclaimer: The stories and information on this site are not meant to diagnose or prescribe for you. If you or your pet has a medical problem, you should consult your medical doctor or veterinarian. The ideas and information on this site have not been endorsed or approved by the FDA.  In no event shall the owners of this website be liable for any damages whatsoever resulting from any action arising in connection with the use of this information or its publication, including any action for infringement of copyright or defamation. The decision to use, or not to use, any information is the sole responsibility of the reader. Opinions expressed here are those of individual contributors. This website does not verify or endorse the claims of contributing writers.
The statements above have not been evaluated by the Food and Drug Administration.  This product(s) is not intended to diagnose, treat, cure, or prevent any disease.