Give MSE Liquid Rescue to Sick or Stressed Animals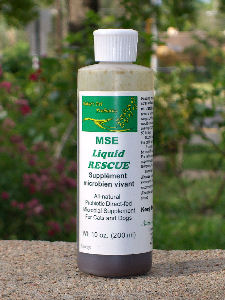 Restore your pet's health with the Highest Quality Probiotics, Digestive Enzymes, and Vitamins.
MSE Liquid Rescue  provides nutritional support and stimulates the immune system in sick or stressed pets .

$29.95 – Made in the U.S.A. &
Free Shipping Within the U.S.A.!
MSE Liquid Rescue is a liquid probiotic, vitamin and enzyme supplement that comes in a convenient 10 ounce squeeze bottle. This product and MSE Paste Rescue contain the same microorganisms as the MSE Daily Boost and MSE Natural Defense, but at approximately four and two times the concentration
of MSE Daily Boost and MSE Natural Defense, respectively.
It is recommended for sick pets, and pets that undergo surgery or other stressful veterinary procedures. MSE Liquid Rescue and MSE Paste Rescue are intended to be used on an as-needed basis before and after surgery or for the duration of an illness. Sicker pets should receive larger doses and/or be dosed more frequently.
---
"Dear Deena,
It is so funny that I was thinking the other day that I should say "Hello" and "Thank you for everything" to you and within two days I ran into two people whose dog was named "Lucy"!
Everytime I hear "Lucy" somewhere, I think of you…because "I Love Lucy" just rocks! I hope Lucy is doing well. I know your love for her makes her life so much better.
I want to thank you again for turning me onto the MSE powder and Liquid Rescue. It definitely helped me to have another year with my beloved Sweetie. I don't think she would have recovered from her mastectomy and survived this long without it. Her fur grew back so fast and was gorgeous when she passed.   Those remedies gave her quality of life at the end, and I am forever grateful to you for it.
And now my Cutie Pie is also being given a second chance with those remedies. I was able to discontinue her Rx Lactulose. She is struggling, but she is doing better than a year ago. She will be 18 on the 4th of July.
Thank you again for your kindness.
Maureen"

---
MSE Liquid Rescue Supplement Benefits:
***Provides nutritional support during periods of stress or illness.
***Stimulates the immune system and controls upper respiratory disease.
***Helps restore the protective gastrointestinal flora in stressed or sick pets or those receiving antibiotics.
***Supplies essential vitamins and readily absorbable energy (volatile fatty acids or VFA).

---
Jenna:
These are two "before" and one "after" pictures of Jenna, a beautiful Pitbull who was severely mistreated and was quite malnourished.
Bill C. adopted Jenna from the Hope for Paws rescue organization.   Bill's love and care, along with the MSE Liquid Rescue Supplement, helped Jenna to regain her health.
She is now a very healthy and happy dog as you can see by watching this U-tube video whose link was sent to us by Bill.  Jenna is a very fortunate dog to have someone who cares so much about her!
---
MSE Liquid Rescue Supplement should be offered on food if the animal is eating, or orally if the animal is not. Both MSE Liquid and Paste Rescue have a bitter taste, due to all the vitamins. Some pets, especially cats, will not consume them voluntarily.  In these cases, give these products orally.
The dosage may be doubled for those animals that are very ill, severely stressed, and/or receiving antibiotics. When receiving antibiotics, it is strongly recommended to feed probiotics at twice the usual rate because antibiotics can kill probiotic microorganisms. Do not give the antibiotic and probiotic at the same time; they should be fed at least four hours apart. Probiotics can prevent secondary infections and may help the animal recover faster.
MSE Liquid Rescue should be fed as long as the pet is sick or stressed.   But it is not meant to be given at rates higher than three times the recommended dose for longer than a few days, as they contain vitamins that can accumulate and cause adverse effects.  Doses higher than three times the recommended dose may be given to critically ill animals for short periods of time.
Liquid Rescue can control symptoms of upper respiratory disease in cats and dogs, but needs to be given twice a day for several days, or until symptoms abate.  For cats one or two cc's is usually enough to control the sneezing that occurs from rhinotracheitis, an upper respiratory disease.
Assume one squirt (along with moderate pressure on the sides) of the squeeze bottle is 1 cc.  Dosage may be increased and/or given more frequently if illness persists or as long as the animal is receiving antibiotics. The daily dose can be divided and given at different times during the day.
IMPORTANT:  Any pet starting on MSE Probiotic Supplements should initially be given a lower dosage, 1/3 to 1/4 of the recommended level, to see how the pet reacts to the product.  MSE Paste, Liquid Rescue and Natural Defense are concentrated and quite powerful products which can reorganize the gut microflora. If these products are given at the recommended dose right from the start, they can cause diarrhea. For this reason, we strongly recommend a lower dose for at least two weeks, and then a gradual step-up to the recommended level.
Since cats do not like anything squirted into their mouths and generally do not like the bitter taste of Liqud Rescue, you will have to restrain your cat before treatment.  Or try masking the flavor.  Some cats will voluntarily consume MSE Liquid Rescue if mixed in milk, added to a mixture of milk and egg, or mixed with canned cat food.
Contains LIVE cultures of: Lactobacillus acidophilus, Lactobacillus casei, Streptococcus faecium, Bacillus subtilis, Bifidobacteria sp., Saccharomyces cerevisiae, Aspergillus niger, and Aspergillus oryzae fermentation products.
Cultures used in Natur's Way Probiotics were naturally obtained over 20 years ago from animals that were raised organically.  Cultures are grown in a sterile laboratory where there are absolutely NO GMO's (genetically modified organisms) used.
Guaranteed Analysis:
Lactobacillus acidophilus 4.0 x108 CFU/ml (400,000,000 CFU)
Lactobacillus casei 4.0 x 108 CFU/ml (400,000,000 CFU)
Streptococcus faecium 4.0 x 108 CFU/ml (400,000,000 CFU)
Saccharomyces cereviae 1.3 x 108 CFU/ml (130,000,000 CFU)
Vitamin A 1630 IU/ml
Vitamin D3 500 IU/ml
Vitamin E 20 IU/ml
Vitamin K 3.2 mg/1 ml
Vitamin B12 6.4 mcg/1 ml
Biotin 100 mcg/1 ml
Thiamin (B1) 6.2 mg/1 ml
Vitamin B6 6 mg/1 ml
Pantothenic acid 6 mg/1 ml
Ascorbic acid (Vit. C) 8 mg/1 ml
CFU/ml: Colony-Forming Units per milliliter
Ingredients:
Dried Aspergillus oryzae fermentation products, Saccharomyces cerevisae, Lactobacillus acidophilus, Lactobacillus casei, Bacillus subtilis, Aspergillus niger, Streptococcus faecium, citric acid, D-glucose, vitamin A acetate, deactivated animal sterol, (source of vitamin D3), DL-alpha-tocopherol acetate (vitamin E), menadione dimethylpyriminol bisulfate (vitamin K), B12 supplement, yucca shidigera extract, cane molasses, biotin, thiamine mononitrate, pyridoxine hydrochloride, d-calcium pantothenate, ascorbic acid, chicory.
Click here to see a comparison chart of MSE pet products and other popular pet probiotics.
---
Important Disclaimer: The stories and information on this site are not meant to diagnose or prescribe for you. If you or your pet has a medical problem, you should consult your medical doctor or veterinarian. The ideas and information on this site have not been endorsed or approved by the FDA.  In no event shall the owners of this website be liable for any damages whatsoever resulting from any action arising in connection with the use of this information or its publication, including any action for infringement of copyright or defamation. The decision to use, or not to use, any information is the sole responsibility of the reader. Opinions expressed here are those of individual contributors. This web site does not verify or endorse the claims of contributing writers.
The statements above have not been evaluated by the Food and Drug Administration.  This product(s) is not intended to diagnose, treat, cure, or prevent any disease.