MSE Natural Defense –
the Highest Quality Probiotics & Digestive Enzymes!

***Reduces allergy symptoms!
***No GMO's (Genetically Modified Organisms)!
***Restores bacterial balance & assists in digestion & assimilation!
***Controls loose stools and diarrhea, and Controls litter box odor!
***Stimulates the immune system so your pet's system can fight off infections,
viruses, etc…

FREE SHIPPING FOR DOMESTIC ORDERS (shipped by USPS or UPS ground)!
One of the major contributors to diminishing health and degenerative disease among domesticated animals is poor intestinal and digestive health. This is due, in part, to an imbalance of beneficial bacteria that is caused by poor digestion and environmental toxins found in food, cleaning products, insecticides, etc. 
MSE Natural Defense is a purified and palatable probiotic for pets with allergies and other special needs, for those that experience stress on a daily basis, or for maximum control of litter box odor (mainly ammonia).  It can help control loose stool and diarrhea, which are often a symptom of Exocrine Pancreatic Insufficiency (EPI) and Irritable Bowel Syndrome (IBS).  MSE Natural Defense Soluble has also been shown to reduce allergy symptoms in most dogs.
Click here to  order MSE Natural Defense!
The body reacts to allergens (both food and environmental) as if they were pathogens.  Allergies are actually an immune response that results in chronic scratching and biting.  Constant irritation and scratching is stressful, and stress reduces the ability of the body to fight infection.  This means an allergic pet is trapped in a vicious cycle that leaves them vulnerable to infection.  Break the cycle by feeding MSE Natural Defense every day.  MSE Natural Defense contains a substance that has been shown to block the immunoglobulin that triggers allergy symptoms.  Most allergic pets fed MSE Natural Defense had reduced symptoms after four days.
*For cats, you may want to consider MSE Natural Defense Soluble which was especially developed for finicky cats, although it can also be given to dogs. It is salmon flavored as salmon meal is the main ingredient.  Unlike the original MSE Natural Defense, MSE Natural Defense Soluble can be mixed with water (1 part NDS:5 or 6 parts water), canned, raw or cooked food without gelling.
---
 "…Riley has now been cured of diabetes."
 Pam B.
"Hi Deena,
I just wanted to let you know the the MSE Natural Defense Soluble has cleared up my cat's chronic bowel problems (IFB) and his diabetes.
Riley was given rounds of prednisone to lessen the inflammation in his bowels.  But the prednisone led to diabetes.   I didn't want Riley to continue receiving prednisone due to the side effects, so I was hoping to find something more natural that would lessen the inflammation and lessen the need for prednisone.  Well, Riley's health has improved so much since taking the MSE that I have been able to gradually reduce the dosage of prednisone.  And remarkably, Riley has now been cured of diabetes.
I have told my vet about your product and am hoping that he will carry it or at least recommend it to help other animals that have chronic health problems.  Thank you for recommending it.
Best regards, Pam B."

---
MSE Natural Defense Soluble is hypoallergenic and reinforces compromised immune symptoms.  It has the same microorganisms as MSE Daily Boost, but at approximately 3 times the concentration.   Like MSE Daily Boost, MSE Natural Defense is intended for daily use.  Not recommended for pets with asthma.  MSE Microbial paste should be used instead.
Cultures used in Natur's Way Probiotics were naturally obtained over 20 years ago from animals that were raised organically.  Cultures are grown in a sterile laboratory where there are absolutely NO GMO's (genetically modified organisms) used!
MSE Natural Defense can be safely frozen. Freezing prolongs microbe viability. However, repeated thawing and refreezing is not recommended. May be frozen in the original shaker.
Click here to  order MSE Natural Defense!
---
       "MSE Probiotics … have gotten our very sick Irish Wolfhound back on track!!!"
Nicole S.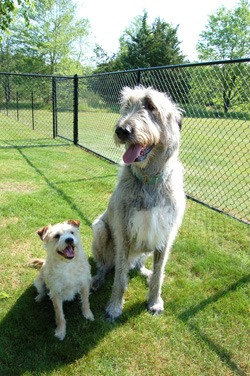 "Deena, …I've included a picture of Bugsby, our Irish Wolfhound and his sidekick, Finley, a rescue. Bugsby was sick from a puppy with an inability to digest protein and as he grew, various symptoms have manifested into what look like auto- immune related problems elsewhere. I didn't want him on medications for life so I set about finding natural remedies and supplements. I never miss 2 daily doses of the MSE probiotic with his meals. Both Bugsby's vet and breeder said that most people would have given up on him but with due diligence, he's perfect now – very happy and healthy.
I can't say enough about your website, the products you offer and the customer service.  Simply wonderful!  Your site has been a lifeline for the MSE Probiotics that have gotten our very sick Irish Wolfhound back on track!!!  Now I am so excited for an alternative to the chemical ladden flea and tick topicals.
Have a great day!
Thank you again.
Nicole S."
---
                                                                                                  
FREE SHIPPING WITHIN THE USA!
*If ambient temperature is above 80 F, an insulated shipping container is strongly recommended.  Insulated boxes also contain an ice pack.  If you choose to use an insulated shipping container, $8.00 will be added to your order.  When ordering more than one Natur's Way item, "Insulated Box" only needs to be chosen once.  All Natur's Way items will be shipped in the insulated box.
All Natur's Way items will be shipped directly from the manufacturer.  Natur's Way is located in Horton, Kansas.  When Natur's Way ships insulated packages, to ensure that the product(s) stay as cool as possible, they ship at the beginning of the week (Monday or Tuesday) so that packages do not end up sitting in a warm warehouse over the weekend.
Guaranteed Analysis:
Lactobacillus acidophilus………4.0 x 108 CFU/g.(400,000,000 CFU)
Lactobacillus casei………………4.0 x 108 CFU/g.(400,000,000 CFU)
Streptococcus faecium…………4.0 x 108 CFU/g.(400,000,000 CFU)
Bifidobacterium longum…………4.0 x 108 CFU/g.(400,000,000 CFU)
Saccharomyces cerevisiae……2.0 x 108 CFU/g.(200,000,000 CFU)
CFU/g: Colony-Forming Units per gram
Ingredients:
Fruit pectin, Saccharomyces cervisiae, Lactobacillus acidophilus cultures, Lactobacillus casei, Streptococcus faecium, Bifidobacterium longum, Dried Aspergillus oryzae fermentation products, Bacillus subtilis, Aspergillus niger.
Feeding Instructions:
Cats and small dogs (< 20 lb.) – One teaspoon daily
Medium-sized dogs (20 – 60 lb.) – Two teaspoons daily
Large dogs (> 60 lb.) – One Tablespoon daily
May be divided between meals.
Click here to  order MSE Natural Defense!
---
"…what a relief when you find something that really really helps."

"Bunny was vomiting quite often ad I gave her clay for a while and she stopped, but started again in a couple months.  Since I've been giving her MSE every other day with the Essential Greens mixed into the wet food she has completely stopped.  …So many people have problems with pukey cats and what a relief when you find something that really really helps."  Kate K.

---
"She's around the house like normal instead of lying in the litter box."
Donna D.
 "Hey, Thanks for the info.  Garfiea is feeling alot better.  She's around the house like
normal instead of lying in the litter box.  She scratches once in a while, but I think it's
because her face is healing and scabbing up.  It's only been a week today and I can see a big difference.  Thank you so very much.  You're great."   Donna D.
---
Important Disclaimer: The stories and information on this site are not meant to diagnose or prescribe for you. If you or your pet has a medical problem, you should consult your medical doctor or veterinarian. The ideas and information on this site have not been endorsed or approved by the FDA.  In no event shall the owners of this website be liable for any damages whatsoever resulting from any action arising in connection with the use of this information or its publication, including any action for infringement of copyright or defamation. The decision to use, or not to use, any information is the sole responsibility of the reader. Opinions expressed here are those of individual contributors. This web site does not verify or endorse the claims of contributing writers.
The statements above have not been evaluated by the Food and Drug Administration.  This product(s) is not intended to diagnose, treat, cure, or prevent any disease.
---