Tips for Helping Your Pet Live a Green Life:
1)  Buy natural pet food & treats.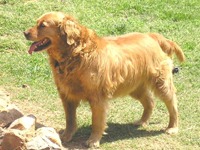 2)  Use chemical free, natural products to bathe and clean up after your pets.
3)   Buy biodegradable poop bags to pick up after your pet.
4)   Purchase your leash, collar, toys and beds made from recycled materials.
5)  Wipe their paws: Use an old towel to wipe their paws and body each time they come in from outside. This will reduce the amount of dirt on your pet and in your house.
6)  Get a "recycled" pet: Adopting a pet can be rewarding for all parties involved and is less expensive than breeding, buying and raising a puppy or kitten.
7)   Natural lawn care: use chemical free products to treat & fertilize your lawn.
8)   Flea treatment: Use a non-toxic, safe treatment to keep your pets' flea free.
9)   Recycle any containers your pets' products come in.
10) Pet Hair Removal: Instead of buying those rollers with sticky paper to remove lint or pet hair, use the pet sponge. The sponge works great at getting pet hair off your clothes as well as blankets.  Best of all, you simply pull off the hair and/or rinse and reuse.
Author:  Happy Trails & Wag'n Tails, Dog Walking & Pet Sitting Service. HTWT provides a guilt free experience to our customers and their beloved animals while clients are away for business or pleasure.
---
Important Disclaimer: The stories and information on this site are not meant to diagnose or prescribe for you. If you or your pet has a medical problem, you should consult your medical doctor or veterinarian. The ideas and information on this site have not been endorsed or approved by the FDA.  In no event shall the owners of this website be liable for any damages whatsoever resulting from any action arising in connection with the use of this information or its publication, including any action for infringement of copyright or defamation. The decision to use, or not to use, any information is the sole responsibility of the reader. Opinions expressed here are those of individual contributors. This web site does not verify or endorse the claims of contributing writers.
The statements above have not been evaluated by the Food and Drug Administration.  This product(s) is not intended to diagnose, treat, cure, or prevent any disease.