For Cats, Dogs, Kittens, Puppies over 10 weeks
Soothes and heals raw, sore, inflamed hot spots fast!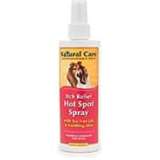 Does your dog or cat scratch and scratch until hot spots appear?  Hot Spot Itch Relief Spray with tea tree oil, chamomile, aloe vera, and other natural ingredients, provides immediate relief from itching and scratching caused by flea allergy dermatitis, pollen allergies and other skin problems. Hot Spot Spray soothes and heals raw, sore, inflamed hot spots fast.  Easy to use pump spray contains no alcohol or steroids.
Click here to order Hot Spot Itch Relief Spray!
Directions: Spray-on (dogs only):
Spray directly on raw, inflame, sore spots. Repeat 1-4 times daily as needed. If your dog suffers from flea allergies, spray the entire body daily or as needed. Avoid spraying near eyes.
Comb-on (cats only):
Dilute 1 tablespoon of Hot Spot spray in 1 cup of water. Apply with flea comb or dab soultion on affected areas. Avoid spraying directly on cats or applying near eyes.
After-bath (dogs and cats):
To relieve flea and pollen allergy dermatitis, prepare mixture of 2 tablespoons of Hot Spot Spray in 2 cups of water. After bathing pet with Pet Scents Herbal Shampoo or Waterless Pet Scents Herbal Shampoo, massage mixture into the hair coat. Do NOT rinse out! Avoid contact with eyes.
Contains:
Tea Tree oil, chamomile, and Aloe Vera.
Hot Spot Itch Relief Spray, 8 oz: $11.99
Click here to order Hot Spot Itch Relief Spray!

---
Important Disclaimer: The stories and information on this site are not meant to diagnose or prescribe for you. If you or your pet has a medical problem, you should consult your medical doctor or veterinarian. The ideas and information on this site have not been endorsed or approved by the FDA.  In no event shall the owners of this website be liable for any damages whatsoever resulting from any action arising in connection with the use of this information or its publication, including any action for infringement of copyright or defamation. The decision to use, or not to use, any information is the sole responsibility of the reader. Opinions expressed here are those of individual contributors. This web site does not verify or endorse the claims of contributing writers.
The statements above have not been evaluated by the Food and Drug Administration.  This product(s) is not intended to diagnose, treat, cure, or prevent any disease.
---