Remove Ticks – Easily and Completely
With Tick Key!
The only tick removal device on the planet that uses natural forward leverage to remove the entire tick, head, and all, quickly and safely without touching or squishing even the toughest engorged ticks!

99.9% effective on all sizes and types of ticks!

Secures and removes ticks very quickly so your pet does not have time to "squirm"!

Makes a great gift or stocking stuffer!

Free shipping!
Click here to order your Tick Key
Ticks carry many diseases, including Lyme Disease.  So it is extremely important to remove ticks as soon as possible. Traditional methods of removing ticks can cause problems if the tick head is not removed or if during the removal process, toxins are expelled onto your pet.
To prevent possible problems during tick removal, try Tick Key!
It removes ticks quickly and completely and is so easy to use!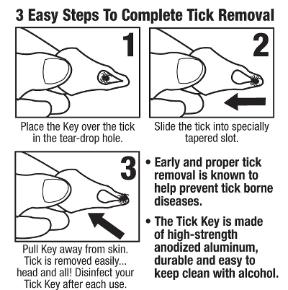 The Tick Key®  Is The Easiest-To-Use Tick Remover On Earth!
 Place the key over the tick in the slot. Pull the key away from the tick sliding along the skin.
The Tick is removed easily, head and all!
 This patent-pending design has been perfected and tested for over five years and is
responsible for the removal of thousands of ticks of all sizes including deer ticks and dog
ticks.
The Tick Key®  is fabricated from high-strength anodized aluminum…this is not a weak piece of plastic.
The Tick Key®  is flat and is easily stored in a wallet, pocket, on a key chain, collar, saddle, or leash.
The Tick Key was invented in Watertown, Connecticut in 2003 after several years of designing & redesigning. Since then it has been tested over and over again and has proven to be the premier tick-removal device on the market.
We are excited to offer you this unique US Patent Pending Design, constructed of sturdy machined anodized aluminum, at all levels of the consumer market.  This product is proudly manufactured in Connecticut (USA).
 ** Comes in assorted 7 bright metallic colors: 
Green, Light Green, Magenta, Blue, Orange, Pink, Purple, Raspberry, Red, Gold, Navy, Sandstone, Silver, Yellow, Brown, Seafoam, Pewter, Copper Penny, & Black
Please allow us to choose for you or in the "Comment" section of the order form website page, you can tell us which color(s) you would like.  We will send your preferred color as long as we have it in stock. 
Tick Key:  $7.99  –  Free Shipping!!!
If you are a retailer and are interested in carrying Tick Keys in your store, please contact us for pricing and details.

Tick Key Demonstration
How Not To Remove Ticks
Don't Remove Ticks With Your Fingers.
In many cases, a tick is likely to be carrying pathogens such as Lyme disease, ehrlichiosis, and others that are harmful to humans and pets. Pulling on a tick, even with tweezers, can tear the mouth parts from the body of the tick.
Don't Apply Substances To A Tick.
Applying any substances, such as petroleum jelly, fingernail polish remover, repellents, or a lighted match that upset or harm the tick almost always causes the tick to vomit the contents of its stomach back into the host.
No matter how badly a tick may want to remove itself, it is not capable of doing so quickly.  Ticks can live without air for long periods; attempts to smother them can allow disease transmission for hours.
Don't Squeeze, Crush or Squash A Tick.
This can force spirochete and other infective body fluids through the mouth parts of the tick.
The TICK KEY®  is the only tick-removal device on the planet that uses
natural forward leverage to remove the entire tick, head, and all, quickly and safely without touching or squishing even the toughest engorged ticks.
The Tick Key is 99.9% effective on all sizes and types of ticks.
---
Important Disclaimer: The stories and information on this site are not meant to diagnose or prescribe for you. If you or your pet has a medical problem, you should consult your medical doctor or veterinarian. The ideas and information on this site have not been endorsed or approved by the FDA.  In no event shall the owners of this website be liable for any damages whatsoever resulting from any action arising in connection with the use of this information or its publication, including any action for infringement of copyright or defamation. The decision to use, or not to use, any information is the sole responsibility of the reader. Opinions expressed here are those of individual contributors. This website does not verify or endorse the claims of contributing writers.
The statements above have not been evaluated by the Food and Drug Administration.  This product(s) is not intended to diagnose, treat, cure, or prevent any disease.