Pet Safety during the holidays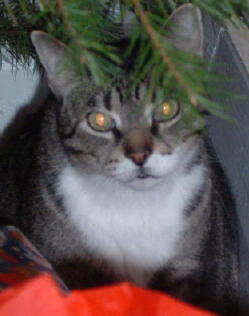 Christmas may be one of the most festive times of the year, but this holiday is one of the most dangerous times for pets. Treats, plants, and other items found in your home or yard may be irresistible to your pet, often resulting in more emergency visits to the vet's office, which is probably not the place you would like to spend your time during the holidays. Use extra caution to keep your pets healthy and safe during the holidays. Below is a list of some of the most common hazards pets may face during this time of the year.
Many household plants popular during the holidays are poisonous to dogs and cats. These include poinsettias, mistletoe, holly, and amaryllis. Always keep these plants out of your pet's reach or away from your home.
Treats can also be dangerous. Never give chocolate to a pet as it is one of the most toxic substances a pet can consume. It contains theobromine, a substance similar to caffeine. Even small amounts of theobromine can cause vomiting, diarrhea, hyperactivity, seizures, rapid heartbeats, coma, muscle tremors, and even death.
In addition to chocolate, avoid giving nuts to pets as nuts pose a possible choking hazard and can cause a severe intestinal upset.
Also, avoid feeding anything containing sugar, as excessive sugar can upset pets' insulin levels and lead to diabetes. Plastic or aluminum candy wrappings are also dangerous. Consumption can cause intestinal upset or even an intestinal obstruction. Alcohol can also prove toxic to pets.
If you feel that your pet deserves an extra special treat for the holidays, stick with healthy, all natural treats made specifically for pets.
Many decorative items are found throughout the house during the holidays. Keep pets away from tinsel, Styrofoam, and small parts from Christmas tree ornaments as they can cause obstructions in the gastrointestinal tract. Snow spray can cause problems if sprayed into the mouth and inhaled. Also, do not allow your pets to play with ribbons and yard, and refrain from putting these items around your pet's neck. If you want to decorate your pet, invest in a holiday collar.
By considering your pet's safety, you can prevent potential disasters and reduce the chance of spending your holiday making an emergency visit to your vet.
***If you suspect that your pet has consumed any of the items discussed in this article, please immediately contact your veterinarian. Your vet can give you the appropriate advice.
---
Important Disclaimer: The stories and information on this site are not meant to diagnose or prescribe for you. If you or your pet has a medical problem, you should consult your medical doctor or veterinarian. The ideas and information on this site have not been endorsed or approved by the FDA.  In no event shall the owners of this website be liable for any damages whatsoever resulting from any action arising in connection with the use of this information or its publication, including any action for infringement of copyright or defamation. The decision to use, or not to use, any information is the sole responsibility of the reader. Opinions expressed here are those of individual contributors. This web site does not verify or endorse the claims of contributing writers.
The statements above have not been evaluated by the Food and Drug Administration.  This product(s) is not intended to diagnose, treat, cure, or prevent any disease.