Oceanside CA Natural Pet Supply Co. & Escondido Pet Sitting Co. form partnership.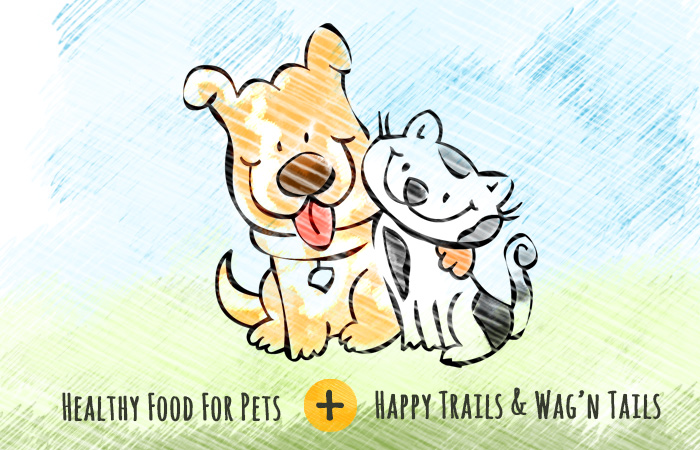 Happy Trails & Wag'n Tails (HTWT), a pet sitting and dog walking company located in Escondido, CA, has partnered with Healthy Food for Pets (HFFP), a natural pet supply business located in Oceanside, CA that offers health enhancing pet products.
Through the partnership, HTWT will be able to refer pet owners for healthy, chemical free pet products.  And HFFP's can provide pet owners with a reliable and trustworthy pet sitting and dog walking service.
Deena and Sirena met when Sirena was looking for natural flea treatment.  Sirena shared, "Right away we hit it off.  I mentioned to Deena that my Labrador was having repeated ear infections, although he had been treated by a traditional vet.  Deena suggested that he could be having a reaction to something in his food and suggested we try Flint River Ranch's Trout & Potato formula.  I decided to try it since there was a money back guarantee.  Plus, after crunching the numbers, I realized it was actually cheaper than keeping him on his current food and continuing to have a vet treat his ears."
When Caruso saw Sirena's interactions with her two dogs and cat, she was impressed.   "Sirena is great with animals. Our shy and cautious rescue dog goes crazy when Sirena comes over.  She gets so excited and runs all over the house and yard.  You can tell Sirena really cares about animals, and her recommendations have been really helpful.  She told me about the "Canine Health Formula" supplement.  It did wonders for our dog that was chronically scratching herself and losing her hair.  All of the hair grew back, and now she has the most beautiful coat."
About Escondido Pet Sitting company
Happy Trails & Wag'n Tails (HTWT) was founded in 2006 to provide professional dog walking & pet sitting services in clients' homes. It is an insured company that provides pet care for all household pets (i.e. fish, birds, dogs, hamsters, rats, cats, birds, etc.) in Carlsbad, San Marcos & Escondido, CA.  HTWT was born out of a dream to work with animals and a goal to provide the best pet care possible.
Sirena feels in order to truly provide excellent care, pet sitters and dog walkers should continue to expand their knowledge.  As Sirena puts it, "There is no requirement for pet sitters and dog walkers to know anything about health issues or to be able to advise on products.  My continued education makes it more likely that I will recognize a health issue and know whether it is really necessary to take a pet to the vet.  This can save clients money and unnecessary worry."
"You can't put a price on peace of mind!  Clients feel at ease when knowing their pet sitter truly loves what they do for a living and has the experience and skills necessary for keeping their pet safe."
About Oceanside Natural Pet Supply Company
Healthy Food for Pets was launched in 2002 after the owners, Bob & Deena Caruso, experienced the difference that natural pet food and treats made in the health of their two dogs and cat.  As Deena shared, "One of our dogs had chronic bleeding hot spots.  We tried all kinds of expensive foods, supplements, and many courses of antibiotic treatments.  The antibiotics would partially clear up the hot spots, but they would return shortly after the treatments ended.  On top of this, our dog began having digestion problems caused by all the antibiotics, and the hot spot situation became even worse!  Finally, we took our dog to a holistic vet, and the first thing she did was to recommend the Flint River Ranch food and treats.  After three weeks of eating their Lamb Millet Rice food, our dog's hot spots cleared up and never returned.  We were amazed and started telling everyone about these products.  Not long after this, we started our pet business."
In addition to natural pet food and treats, HFFP's offers other safe and natural products that are free of toxic chemicals: flea prevention and treatment products; probiotic supplements; homeopathic and herbal supplements; cleaning and grooming products; and various other products to enhance the health of pets.
In celebration of the new partnership and HTWT's 6 year anniversary, HTWT's and HFFP's are offering the following discounts.
HTWT's is offering a 5% off Pet Sitting and Dog Walking special through April 1, 2012.
The DEAL:  Purchase a 5 pack of 30 minute walks and get 5% off.
**Rules: Must like HTWT on Facebook and prepay package in full.
Clients may extend visits in 15 minute increments up to 1 hour for an additional $5 per 15 minutes. Must use within 2 weeks-any unused visits will be forfeited. One offer available per household. Please mention code "SD6" when sending an email or calling us to get this special.
Through April 15, 2012, Healthy Food for Pets is offering a 10% discount on their best selling products, Flea Free and Fly Free Food Supplements and a 5% discount on Flint River Ranch pet food and treats.
Unlike chemical flea treatments that can cause neurological damage to pets, the liquid Flea Free and Fly Free Food Supplements control fleas, flies and ticks while enhancing health with vitamins and minerals.   To receive a 10% discount, write the coupon code, "HAPPYTRAILS", in the coupon code box located on the shopping cart ordering page.   (Discount does not apply to Value Packs.)   The following link will take you to the HFFP's website page that provides information about the insect control products: http://healthyfoodforpets.com/fleafree.html.
If you prefer to order by phone, call 877-877-0665 (toll free) and mention the coupon codes above.
---
Important Disclaimer: The stories and information on this site are not meant to diagnose or prescribe for you. If you or your pet has a medical problem, you should consult your medical doctor or veterinarian. The ideas and information on this site have not been endorsed or approved by the FDA.  In no event shall the owners of this website be liable for any damages whatsoever resulting from any action arising in connection with the use of this information or its publication, including any action for infringement of copyright or defamation. The decision to use, or not to use, any information is the sole responsibility of the reader. Opinions expressed here are those of individual contributors. This web site does not verify or endorse the claims of contributing writers.
The statements above have not been evaluated by the Food and Drug Administration.  This product(s) is not intended to diagnose, treat, cure, or prevent any disease.