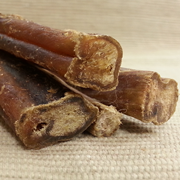 Life's Abundance Water Buffalo Bully Sticks
Dogs come in all different shapes and sizes but there are two things they have in common … they love to chew and they love meat! Now you can give your dog real chewing satisfaction that's not only scrumptious, but also natural and completely healthy, with our free-range, grass-fed water buffalo bully sticks.
These wholesome dog treats …
Contain only Free-range, Grass-fed Buffalo
No additives or preservatives
Help reduce tartar and maintain dental health
Supply a leaner alternative to beef
Are suitable for dogs with food sensitivities
Provide a rewarding chewing experience
Pack of Six Water Buffalo Bully Sticks – 6" sticks  (Average calories per stick: 100)
Pack of Four Water Buffalo Bully Sticks – 9" sticks  (Average Calories per stick: 150)  Great for larger dog breeds!
---

Buffalo Chew Treats Quality Assurance
Some consumers feel hesitant about feeding new foods or treats to their dogs, especially if they're unfamiliar with the seller's protocols for bringing safe products to the market. We want you to know, with Life's Abundance, you can feel completely at ease about feeding any of our products because our safety measures are of primary concern.
While the majority of our ingredient suppliers and manufacturers are based in the U.S.A., the quality and safety of a product isn't as simple as knowing its country of origin.
For example, our all-natural water buffalo bully treats are produced in India, but that's not the whole story. The factory scores a Grade A on all of their annual inspections, audited by the SGS Group, the world's leading inspection, verification, testing and certification company, setting the benchmark for quality and integrity. The buffalo chews also are tested to ensure that they're free from e.coli, salmonella, yeast and mold contamination.
In addition, our premium buffalo products undergo an extra level of protection to prevent food-borne illnesses and ensure safety. The chew treats are irradiated according to protocols implemented by U.S. FDA standards. The FDA has evaluated this food processing technique for more than 30 years and has clearly demonstrated its safety. The World Health Organization (WHO), the Centers for Disease Control and Prevention (CDC) and the U.S. Department of Agriculture (USDA) have also endorsed the safety of this food treatment.
We are certain that you will find our grass-fed, free-range water buffalo bully stick treats are healthy additions to your dog's diet.
---
Important Disclaimer: The stories and information on this site are not meant to diagnose or prescribe for you. If you or your pet has a medical problem, you should consult your medical doctor or veterinarian. The ideas and information on this site have not been endorsed or approved by the FDA.  In no event shall the owners of this website be liable for any damages whatsoever resulting from any action arising in connection with the use of this information or its publication, including any action for infringement of copyright or defamation. The decision to use, or not to use, any information is the sole responsibility of the reader. Opinions expressed here are those of individual contributors. This web site does not verify or endorse the claims of contributing writers.
The statements above have not been evaluated by the Food and Drug Administration.  This product(s) is not intended to diagnose, treat, cure, or prevent any disease.