Agility: a Popular and Enjoyable Dog Sport
One of the fastest-growing sports today is Agility for Dogs. It is both an exciting spectator sport, attracting a lot of nationwide attention, as well as a challenging and very enjoyable activity for dogs and their humans. It is an excellent activity for building confidence in a dog since it involves developing rather demanding skills and overcoming certain natural fears a dog might have, such as climbing, balancing, jumping through hoops, and entering tunnels. Shown at right, Doberman Pinscher Kate leaps through a suspended tire during an Agility trial.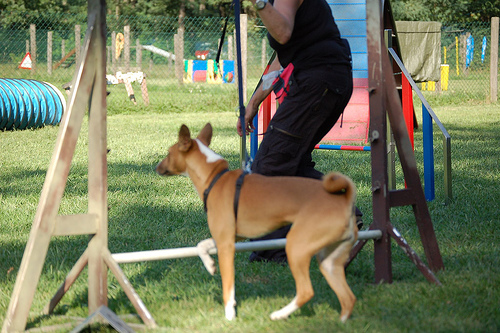 Prior to embarking on Agility training a dog should have completed at least a novice obedience class. Beginning agility training is generally done on lead and involves introducing a dog to one or more hurdles or obstacles at each session. Some of the feats they eventually accomplish are running through tunnels, jumping over pole and board jumps, staying put on top of a low table, climbing an A-frame (as demonstrated by the same famous Kate below), walking across a high walk, weaving through a series of poles, entering, balancing on, and exiting a teeter-totter (seesaw).
Each individual exercise poses its own unique challenge; however, linking the series of exercises into a prescribed course is what makes this sport particularly amazing to watch and participate in. At an actual Agility Trial, the exact series of exercises and placement of obstacles is determined just before the competition begins. The human is allowed to walk through the course once to familiarize himself or herself with the layout and plan a strategy. During each individual dog's trial, the human directs the dog from one obstacle to another with verbal commands as well as body signals. The dog must complete the entire course in the specified order in the shortest amount of time.
Some breeds of dogs, such as Border Collies and Australian Shepherds are able to complete the course much faster than some larger breeds such as Labrador and Golden Retrievers and German Shepherd Dogs. Through a method of handicapping according to breed and size, dogs of all breeds compete in a particular class level as a team with their human handler. There is no breed that is precluded from Agility; however, the very large breeds such as Mastiffs and Great Danes generally experience much more difficulty than their smaller, nimbler colleagues.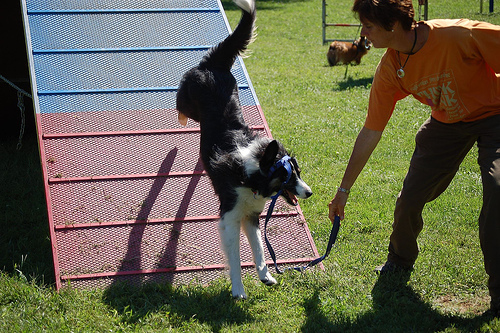 The sport requires a lot of practice, precision, and patience on the part of the human handler, and it helps if he or she is able to move quickly. However, I have seen a woman walking with a cane derive an enormous amount of satisfaction from training her dog in agility. The sport creates a tremendous amount of bonding and rapport between the dog and his handler that is perhaps unparalleled in any other canine/human activity.
---
Important Disclaimer: The stories and information on this site are not meant to diagnose or prescribe for you. If you or your pet has a medical problem, you should consult your medical doctor or veterinarian. The ideas and information on this site have not been endorsed or approved by the FDA.  In no event shall the owners of this website be liable for any damages whatsoever resulting from any action arising in connection with the use of this information or its publication, including any action for infringement of copyright or defamation. The decision to use, or not to use, any information is the sole responsibility of the reader. Opinions expressed here are those of individual contributors. This website does not verify or endorse the claims of contributing writers.
The statements above have not been evaluated by the Food and Drug Administration.  This product(s) is not intended to diagnose, treat, cure, or prevent any disease.
Healthy Food For Pets
368 San Dimas Avenue
Oceanside, CA 92057
Toll-Free: (877)-877-0665
E-Mail: HealthyFoodForPets@cox.net