Jeani's GreenMaxPro Cleaner
               Raw and Organic – ALL IN ONE AMAZING CLEANER!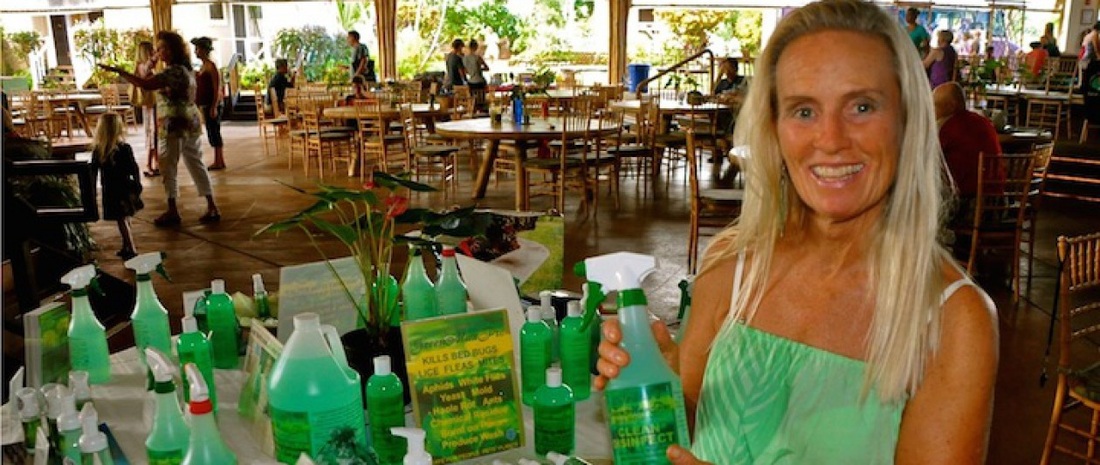 For your BODY,  your CHILDREN, your HOME, your ANIMALS, and your PLANTS
Plant Derived and Handmade on Kaua'i by Jeani
GreenMaxPro Cleaner Ingredients:
*Kelp
*Tea Tree
*Tumeric
*Geranium
*Eucalyptus
*Grapefruit Seed Extract
"The Way it CLEANS, The Way it SMELLS, the Way it FEELS… IT'S BRILLIANT!"
20 years ago Jeani was poisoned with chemicals where she worked.  Her liver was severely damaged, and the myelin sheaths around her nerves were destroyed.  Also, the blood flow to parts of her brain were blocked, and her immune system was paralyzed. She could not
have ANY chemicals in her house or on her clothing. After trying all the natural cleaners, she found that every cleaner had something in it that she reacted to.
So Jeani prayed and asked God for a solution. She was given a recipe for a cleaner and disinfectant all in one. It is the only cleaner she has used in and outside her house since.  And she has a chemical, mold, mildew, bacteria and fungus-free house and yard!
A professional painter used it for mold and mildew removal.  He was amazed with the results and immediately switched from toxic chemicals to GreenMaxPro.
---
YOU NAME IT – GREEN MAX PRO CLEANER CLEANS IT!
***CLEANS… Vehicles, Homes, Business, Boats, CD's, Kitchens, Bathrooms, Hands, Yoga Mats, Surfboards, Mold, Mildew, Ovens, Dishwashers, Grills, Mattress
***REMOVES… Makeup, Crayon, Pain, Stains, Adhesives, Pesticides, Superglue, Calcium Deposits, White Fly
***WASHES… Pets, Plants, Windows, Dishes, Produce, Appliances, Carpets, Upholstery, Snorkel Gear, Glass
***CUTS… Through Grease, Gum, Pet Odors, Wax, Ink!
***STOPS… Mosquito Bite ITCH, Jelly Fish Sting, Aphids
***USE FOR… Granite, Leather, Jewelry, Haole Rot, Rash, Ants, Spiders, Fleas, Sunglasses, Pedicures, Laundry, Acne, Wet-Sanding, Power washing, Lubricant, Burns, Athlete's Foot, Jet Dry, Underarm, Aftershave, Cuts
Say goodbye to Harsh Toxins and Chemicals and go GreenMaxPro!
---
GreenMaxPro Cleaner Testimonies:
Many people use GreenMax Pro in their gardens and on houseplants. Above you can see on the far right, the cucumber leaves had some type of fungus which was attracting pests. The growth to the left is after spraying the plant on a regular basis.
The cucumbers were great!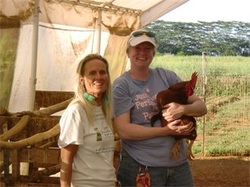 Another satisfied customer! Infested with chicken mites, SOS Organic Farms tried everything, but nothing worked until someone gave them a bottle of GreenMax Pro. They sprayed down the chicken nests and not only did the chickens not mind, they started laying more eggs. No more mites and no more bites!
---
HI, I AM THE ONE IN KANSAS THAT YOU CALLED LATE THE OTHER NIGHT. I AM GLAD YOU CALLED. HERE ARE THE PICTURES USING YOUR PRODUCT. SHE PUT IT ON FACEBOOK AND SAID SHE WOULD BE ORDERING SOME. HER DOG HAD GOTTEN INTO POISON IVY AND THEN SHE HELD IT. ONLY ON LEFT ARM AND A LITTLE ON HER STOMACH. SHE IS MUCH BETTER.
THANKS, LINDA LEATHERMAN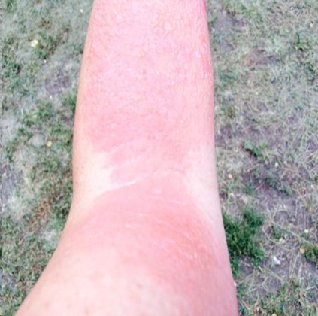 ---
You have created and amazing product. I used for the first time a few years ago and just never got around to getting more. Eventually I forgot about it till I came across your booth at this year's Made in Hawaii Festival. I ended up putting it away and forgot that I had it. Recently (within the past few days) we started to notice strange beetles in our bedroom. Turns out that they were bedbugs. Your product killed them! I have been spraying around and on our bed twice a day for the past 2 days and I have only come across 2 live bugs since then. We are still going to do the hot water washing and drying and such. But I will be making sure to use some of your product in the wash. Thank you so much! — MG
---
I love this cleaner!  I have asthma, and I can actually breathe more easily after using it.  Cleans great, but also makes me physically feel better.  It was the opposite with all the other cleaners I've used.
Thanks, Carolina
---
Just great, Jeani!
Hope you're selling gallons of your excellent green soup! I'm so fond of it I wouldn't like to take a shower without it. It works all over, but in a funny way I think I like best the way it washes my hair (what's left of it), leaving it clean as a whistle and yet never, ever dry.
My son likes it (he's not a little guy but still living at home for the time being), but he felt it was too fluid to use. I can see what he means, but I have a way of working with it. I find it's best for me to squirt some in my HAIR, first, and really work it into a lather; then, I 'steal' some from my head and use it on the rest of me. If I run out of lather, I repeat the process. I also like to just turn the shower off and 'soap up' (even though it isn't soap, and that's what I love about it) with Green Max, getting all the, er, important areas! Then I just turn the shower back on and rinse off thoroughly, and I'm done. Saves water, too, which is important now here in California as we're having a horrible drought. I also don't waste my Green Max and it easily does the job. Just pouring the Body Wash all over yourself is a waste of its effectiveness. I probably don't use much more than a tablespoonful or so, per trip to the shower. If anybody ever complains (not that I would know) that the Body Wash is too thin, pass these suggestions on to them if you like.
BTW, I love the Pet Wash version, and use it on all three of our dogs. I usually just take one into the shower with me and give him the works! Their coats are always wonderfully clean and fresh-smelling with Green Max, and wind up feeling soft and moisturized. There too, I like to get 'em wet, turn OFF the shower spray, and lather them up with a few good squirts of Green Max. I REALLY work it in quite a bit. I find that after working it for maybe a minute I begin to actually feel the grit deep in their coats starting to float outwards to the surface. So it's not a process you want to rush with. I turn the shower back on (always just 'warm' for dogs) and get 'em thoroughly rinsed, and then towel 'em off before they escape!
Best,
Craig
---
Dear Jeanie,
I just wanted to let you know that your product has truly changed my life. I use Jeanie's Green Max Pro for almost every cleaning need that i have. The most dramatic result that I experienced took place when I started using a drop of Green Max Pro concentrate on my toothbrush along with my regular toothpaste (which is also a lovely organic brand.) The toothpaste alone cleans my mouth, but ever since I started using your product with my toothpaste, my mouth is not only clean, but it is the cleanest it has ever been in my life! In addition, it actually whitened my teeth to a very noticeable degree! My boyfriend was shocked when he saw the results. He uses Green max pro with his toothpaste as well. Thank you so much for your healthy, powerful products. Like I said before, it has really changed my health and my life.
Sincerely grateful,Claire D.
---
Hello Jeanie!
I came across your products from my chiropractor when we lived in Missouri. I made a small purchase to make sure that I liked your products and that they would live up to my expectations. They certainly have exceeded any and all of my hopes! Your products really live up to the claims I have read and heard from users.
My husband was making some repairs to the inside of my car and cut his hand. Some blood got on my suede seats. He told me about it and I started searching for hints to remove blood from suede. I was coming up with very little. Then I saw the bottle of go with you spray on the counter and thought why not? Glad I did! We sprayed some on the first stain and then used a paper towel to blot it up. Both of us were speechless when we saw that the stain had completely been removed. We did the same to the other two spots and were pleased to see the same results!
Needless to say, we are sold!
Thanks for your help.
Kellie
---
Aloha Jeani,
I met you at Lassen's in Santa Barbara and purchased several of your products. I especially love the body wash and use it everyday in the shower. But what amazes me is how it quickly and effectively it gets rid of any skin redness or itchiness. I just use it straight and in minutes any unexplained rashes or bug bites are gone! Thanks for bringing your wonderful products here.
Best,
Anne Cole
---
Hi Jeani,
I just completed my first order from your new website!
I wanted to say that I think it functions great. I've used other websites created by start-up companies (though I don't mean to speak out of turn; I don't know how long you've been up and running) that are full of frustrating bugs. Yours, however, works as expected no matter whether I'm interested in reading about the product, or adding it to the shopping cart. The checkout process was similarly 'painless'. I've read elsewhere in your publicity portrait that you live in/on Kauai, and this has sentimental value for me as my wife and I spent our honeymoon there!—in 1986. Your EXCELLENT product not only creates its own positive associations with this lovely place, but combines in my mind with my own fond memories of our visit there, 28 (gasp!) years ago. BEST WISHES WITH YOUR FINE LINE OF PRODUCTS! I'm looking forward to receiving them, and I'm sure I'll be a regular customer.
Craig Reardon
---
Hello!!
This is my second order from you and my 3rd purchase. We were Kauai 3 years ago when my 2 year old developed a rash, probably from the climate. I visited a farmers market and you were there – I bought a travel size of Green Max and my daughter's rash cleared up immediately. I had no worries about spraying it in her diaper area since it is chemical free. I have since used it on myself ( minor scrapes, etc), it was the only thing that cleared up a toenail fungal infection my husband had, and I use it for all my cleaning. I am so pleased and thank God for his revelation to you. May you be blessed for blessing me!!
Maria Imp
---
My name's Craig Reardon. I live in Agoura Hills, CA. I live near a very good independent health food store called Lassen's, in nearby Thousand Oaks. I'm somewhat obsessed with cleaning products, because a) I like stuff to be clean, b) I don't like to work too hard, sometimes only to wind up with mediocre results, and c) I've come to hate mainstream cleaning products; I was converted to the whole idea behind natural products over twenty years ago. SO…when I recently visited Lassen's and saw a product there that was new to me, namely Green Max Pro, I was intrigued and decided immediately to try it. I think it's one of the very best cleaners I've ever used. Love it. Lassen's carried a decent-sized pump aerosol container size at first, along with a useful small size suitable for glove compartments or a lady's purse (but as usual a bit impractical still for most conventional guys) When I next visited Lassen's, they'd begun to stock a larger pump sprayer of this great stuff. However, I've seen a picture of its inventor, Jeani, holding a couple of gallon-sized containers. THAT'S what I wish I could purchase!
Would you please write to suggest what I can do to acquire/obtain a gallon-sized quantity of Green Max Pro? I admit I haven't searched very hard, yet—not even Amazon.com. However, I first thought it best to go right to the source! Perhaps the answer is as simple as asking someone at Lassen's if they would consider stocking the gallon size. However, it MIGHT be unlikely, since the largest container(s) of anyone's cleaning products I've ever seen there are a quart, maybe a half-gallon.
Anyway…congratulations on coming up with such a remarkable, safe, and effective recipe. It can clean my eyeglasses better than ANYTHING I've ever tried, including steam cleaners (not to mention conventional eyeglass wipes and sprays), and it's great on glass—mirrors, car windshields; and it's the best stainless steel cleaner I think I've ever tried. I haven't even begun to try the many suggestions printed on the label on the bottle. I'm thinking now, from personal experience, that as varied and almost unlikely as these many suggested uses are in scope and variety, this stuff will probably handle it.
Good fortune to you,
Craig R.
---
Hey, thanks for answering so quickly, Jeani! If your product(s) catch on as they merit, it might not be POSSIBLE, one day, for a single customer to talk to the founder/CEO, so I take that into account. I mean, I keep hoping that one day a person who does things right, and is mindful of the actual welfare of her customers, might have the same sort of success as the entrenched companies which mask the negative aspects of their products with saturation bombing of the media with 'smiley' commercials and propaganda. I keep hoping!
ALL your new product ideas sound terrific to me. BTW, Lassen's (perhaps due to your personal involvement for all I know, re: your January visit) does also stock the Animal Wash, which I purchased and now use to wash our beloved 'dawgs'. Does a great job and has that same unconventional, invigorating eucalyptus/tea tree trace smell. I'm assuming you're speaking of two different products when you say (quoted here) "…the Animal Wash and Body Wash". If you have a Body Wash for people vs. dogs, I'd love to try that, too.
I can "survive" on what Lassen's has available while you build your website. I don't know how long this process takes as I've never had to do that, and I'm nearing retirement age (at 61, as of yesterday actually!) The website sounds like the way to go, once you're happy with it and it's up and running. Would you add my name and email address to your files so you can notify me when the website's active? It's not that I wouldn't like to try the products you've detailed right now, but I will be patient 'till it's easier for me, and presumably you too, to simply place (and for you to receive and process) a block order. Also, it will be easier for me to be able to read your descriptions of the various products, available sizes, etc.
Please feel free to reproduce my remarks at your new website, if they'll help you promote your products, BTW.
---
HI Jeani,
I just wanted to tell you that I love your product! the dog shampoo is DA-BOMB! I had to put my old dog down this week, her last couple of months were so much more comfortable because your shampoo.
********
Hello, Country Vitamins here in Corvallis Oregon had their 30th Anniversary celebration yesterday and I purchased the spray bottle of Green Max Pro. When I got home I cleaned our 2 bathrooms and I could not believe what a great job your product did!! I knew it was high quality but I didn't expect such dramatic results. The brushed nickle faucets look better than when they were new and the mirrors actually shine. I'll be purchasing more of your product very soon. Now I wouldn't want to be without it! Thank you for this wonderful formula. Sincerely, Margaret